BCA'37 UK-Euskadi
---
Exposición del Athletic Club
Athletic Club Exhibition
Fantástica cobertura de prensa para la inauguración de la exposición del Athletic Club y BCA'37UK & BCA'37UK-Euskadi Los niños del 37 en el Reino Unido en el AC Museoa San Mamés.
Vea los numerosos vídeos, fotos y artículos.
Nuestro informe en breve.
Fantastic press coverage for the inauguration of the Athletic Club and BCA'37UK & BCA'37UK-Euskadi exhibition Los niños del 37 en el Reino Unido at AC Museoa San Mamés.
See the many videos, photos, and articles.
Our report coming soon.
---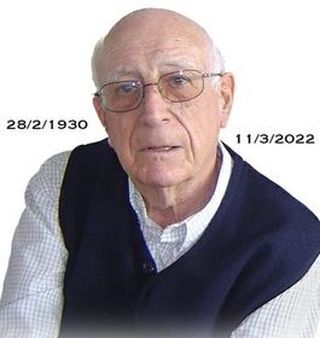 José Vicente Cañada García
Presidente de la Asociación de Niños Evacuados de la Guerra Civil
Falleció en Bilbao el 11 de marzo de 2022, a los 92 años. Más detalles aquí …
President of the Association of Evacuated Children of the Civil War
Died in Bilbao 11 March 2022, aged 92. More details here …
---
Ayuntamiento de Santurce Acuerdo para Monumento
Las Juventudes Socialistas de Bizkaia han tenido éxito en sus esfuerzos por persuadir al Ayuntamiento de Santurce para que erija un monumento a todos aquellos niños evacuados de ese puerto en 1937. Aplaudimos sus esfuerzos y les felicitamos por su éxito … Lee mas …
Santurce Council Agree to Monument
The Socialist Youth of Bizkaia have achieved success in their efforts to persuade the local council of Santurce to erect a monument to all those children avacuated from that port in 1937. We applaud their efforts and congratulate them on their success. … Read more …
---
Desde BCA'37UK-Euskadi / From BCA'37UK-Euskadi

---
---
---

---
Saint Jean de Luz, Francia
En el cementerio de Aice Errota, Gaizka Garamendi Gurimusen en nombre de nuestras dos asociaciones, puso flores en la tumba de Lehendakari Aguirre.
Saint Jean de Luz, France
In the cemetery 'Aice Errota', Gaizka Garamendi Gurimusen, in the name of our two associations, lays flowers on the tomb of Lehendakari Aguirre.

---
Domingo 25 de abril como parte de su conmemoración del bombardeo de Gernika, Deia publicó los siguientes dos artículos sobre la evacuación al Reino Unido. Léelo aquí …
---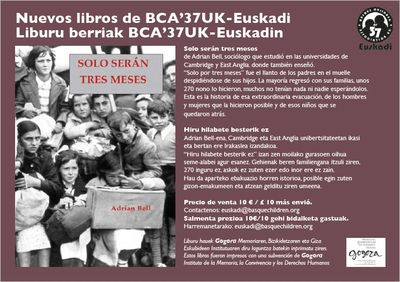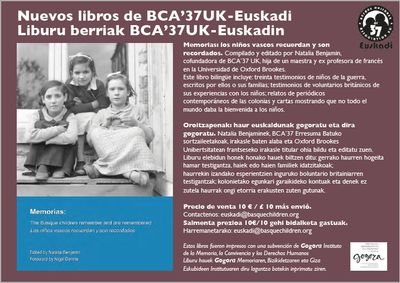 BCA'37UK-Euskadi con la ayuda del Gobierno Vasco a través de Gogora el Instituto de Memoria, Convivencia y Derechos Humanos, se complace en presentar dos libros importantes que narran y recuerdan la evacuación y estancia de los niños en el Reino Unido expedición.
Para obtener más información y cómo obtener sus copias presione aquí …
---
Gogora nos ha informado que desde ahora podrá consultar en su web la base de datos de Víctimas mortales de la guerra civil en Euskadi. www.gogora.euskadi.eus
Gogorak jakinarazi digu hemendik aurrera Euskadiko gerra zibileko biktima hilen datu basea bere webgunean kontsultatzeko aukera izango duzula. www.gogora.euskadi.eus
---
Estos documentos son de BCA'37 UK-Euskadi. Hay más información disponible del comité.
Agiri hauek BCA'37 UK-Euskadi dira. Informazio gehiago batzordearen esku dago.
These documents are from BCA'37 UK-Euskadi. More information is available from the committee.
---
---
Importante logro en subvenciones junto a Gogora
Nos complace anunciar que nuestras tres solicitudes de subvenciones realizadas a principios de este año para Gogora Instituto de la Memoria, la Convivencia y los Derechos Humanos Historica, se han resuelto positivamente. Detalles aquí …

Lorpen garrantzizkoa diru-laguntzetan Gogora-rekin batera
Pozik adierazten dizuegu aurten Gogora Memoriaren, Bizikidetzaren eta Giza Eskubideen Institutua erakundeari aurten emandako diru-laguntzetarako hiru eskaerek babesa jaso dutela. Xehetasunak hemen …
---
por Carmen Sánchez (Kilner)