What's on this site
* New item here
---
Web site last updated on:
23 May 2018
ON THIS DAY, 23rd MAY, 81 YEARS AGO,
SS HABANA ARRIVED
IN SOUTHAMPTON FROM BILBAO.
Association forthcoming events
23 May SHEFFIELD
Weston Park Museum, Western Bank, Sheffield S10 2TP 13.30pm - 16.30
The Basque Children in Sheffield and the Spanish Civil War
An afternoon of talks and the opportunity to view the exhibition 'Sheffield City of Protest'
Speakers: Dr James Yeoman, Prof Mary Vincent, Stephanie Wright
(all University of Sheffield) and Simon Martinez (BCA'37UK)
More information at The Museum web site;
and this article on The Star web site.
13 June KEIGHLEY
Thornton Antiquarian Society Society presents:
The Reverend John Balmer and the Basque Child Refugees
in Bradford and Keighley
A talk by John Birkbeck (grandson of the Revd Balmer) and
Simon Martinez (BCA'37UK)
The Reverend Balmer was the Chair of the Yorkshire Committee for Spanish Relief and Secretary of the Keighley Basque Children Committee. He was the minister at The Devonshire Street Congregational Church in Keighley. During the Spanish Civil War 24 children came to Bradford and 120 to Keighley. Further details to follow
25 June -1 July SOUTHAMPTON
Floor 4 Gallery, University Library, University of Southampton, Highfields, Southampton SO17 1BJ
From Bilbao to Southampton to Salford
Another opportunity to view this exhibition of conceptual art by Claire Hignett, which was previously exhibited at Salford.
28 June SOUTHAMPTON
University of Southampton, Highfields, Southampton SP17 1BJ
13.30pm - 16.30pm
The Basque Child Refugees and the Spanish Civil War -
History and Memory
An afternoon of talks to explore the impact of Total War on Children, The struggle for the souls of the children, two Local Studies of the Child Refugees and adults in refugee camps in France, and a personal account of one family.
Speakers: Dr Peter Anderson (Leeds University), Dr Ed Packard (University of Suffolk), Dr Graham Soo (University of Southampton) and Carmen Kilner (BCA'37UK). Further details here …
Tickets can now be booked at Eventbrite.
---
Other News, Notices & Events
New items available:
from the BCA'37 UK online shop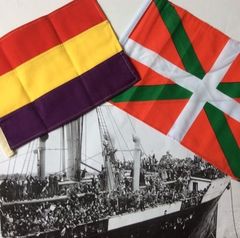 The flags of the Segunda Republica and Euskadi were important symbols for the children when they came to England in 1937.
We now have for sale these two flags. Details:
La tricolor - flag of the Second Republic - 14"x10" (36x25cm) made in cotton - a replica of the flag brought to Britain by one of the Niños. Price £10.00.
La Ikuriña - flag of the Basque Country -
18" x 11" (45x28cm) - printed on high quality polyester. Price £5.00.
The price for each flag includes postage for all U.K. orders.
Visit our shop here.
---
Request for information
We have received a request for information from a Ph.D student at the University of Granada and hope that some of you might be able to help him: "… the issue of the return of the republican exile, whether they are relatives or not of exiles, and want to share their stories."
There is a questionnaire. Read the full request here …
---
Folk Duo Na-Mara
Don't forget to check out their forthcoming gigs ….
More information …
---
Spanish Crossings author John Simmons
on BBC Radio 4
John Simmons,the author of the novel Spanish Crossings, was interviewed by Richard Coles on BBC Radio 4, "Saturday Live" (go to 41.17 minutes into the interview).
A very nice interview with kind acknowledgement of our association and help given to John. It is available to listen on: www.bbc.co.uk/programmes/b09y6zmr#play
---
Spanish Crossings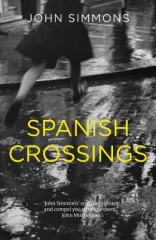 Following on from the success of the hard back edition, John Simmons' book Spanish Crossings is now out in paperback.
If you didn't read it first time round then we can thoroughly recommend that you buy a copy now.
There is a review on our website by Ed Packard here.
Here is a more recent review by another historian, Richard Baxell:
"Based on the true story of the arrival of 3000 Spanish Refugees in 1937, Spanish Crossings convincingly recreates a picture of England, France and Spain during the turbulent and war-torn 1930s and '40s. Elegantly written and well-paced, John Simmons' story of love and optimism is an exciting and rewarding read."
Read this press release here …
The book is available from BooksEtc for £5.39 p&ampp included.
---
Changing Lives: 200 years of changing lives and protest
Weston Park Museum, Western Bank, Sheffield S10 2TP
From 6 February to 1 July 2018
"As part of the theme of unity with national and international causes the time spent in Sheffield by 25 Niños Vascos is explored through a poster, press cuttings, books …"
More on the Museum web site and in this report by Barbara Coombs.
---
The Gernika Peace Museum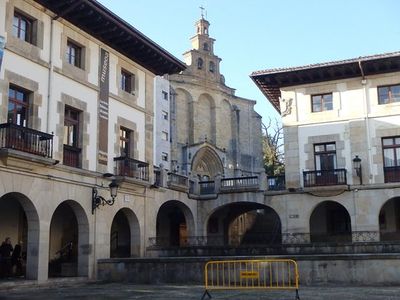 The Gernika Peace Museum Foundation has a long and outstanding history of using the archives of war and atrocities, not only those of Guernica, as a vehicle for understanding conflict and finding a way forward towards peace.
The museum is well worth visiting if you have not yet done so. They produce exhibitions, talks and events throughout the year and although not all will have a direct reference to the niños de la guerra, they will all have that relevant background context.
Two items of current interest are the following:
An exhibition in Gernika at Museum running from 15 December 2017 until 16 September 2018 entitled Memories of Stone and Steel — monuments to victims of the Spanish Civil War and Francoism in the Basque Country (1936 - 2017). Details here …
and an invitation to the opening on 15 December 2017
A brochure by the Education Department of the Gernika Peace Museum Foundation containing much of interest to schools and others. Details here …
---
---
Welcome
In 1937, during the Spanish civil war, almost 4,000 children were evacuated to the UK from Bilbao. Read more …
At first they stayed in a camp at Stoneham and later in colonies throughout the UK. Read more …
We want to remember and preserve the story of these niños de la guerra in their rightful context. Read more …
From the Archives
From Newsletter 5, April 2006
"El Barbas" by Herminio Martínez (en castellano).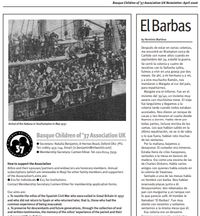 Después de estar en varias colonias, me encontré en Brampton cerca de Carlisle con nueve años cuando en septiembre del 39, estalló la guerra …
---
… and an article you may have missed:
"Basque Connections"
by Wendy Henningsson [From the autobiography "Home, Hills and Beyond"]
Read the full article here …
Latest Articles
report by Barbara Coombs
---
by Gerald Hoare and Simon Martinez
---
by José María López-Dafonte Sanjuán
---
by Dr Edward Packard
---
report on Mike Levy's talk
---
by Anna Cordon
---
report by Barbara Coombs
---
---