What's on this site
---
Web site last updated on:
11 November 2019
80th Anniversary year of the end of Spanish Civil War
A year of exile and repatriation
Association forthcoming events
18 July 2019 - July 2020 IRELAND
Thursday 18 July 2019 - July 2020 Exhibition tour of IRELAND and NORTHERN IRELAND
Museum of Childhood Ireland Project presents the 2nd exhibition in their series 'Children in War': The Basque Children of '37.
Event location details below …
Mid-October to 16th November, ATHLONE City Library
Mid-November to end of December, LEITRIM City Library
During2020 the exhibition will visit the city libraries of DERRY, BELFAST, WARRENPOINT, DROGHEDA, OFFALY, CARLOW, WEXFORD and we hope to close with a grand final even in DUBLIN in mid July 2020!
Final venues, dates and details will be announced on the web and in the eNotices when available.
---
News, Events & Reports
Spanish Exiles in the UK: History and Legacies
12 November, LONDON
Keynes Library, School of Arts, Birkbeck, University of London,
43 Gordon Square, London WC1H 0PD
… this event brings together scholars and artists to discuss the presence and legacies of Spanish Republican exiles in Britain …
Mirella Primavera Santamaría Bonilla MBE
We are sad to announce the passing of Mirella Primavera Santamaría Bonilla MBE, the daughter of niño Luis Santamaría.
Details of both the funeral on 15th November in Nottingham, and internment of the ashes on 25th November in Golders Green Crematorium can be seen here …
Threads of Exile
6 December, PRESTON
University of Central Lancashire, Preston
Talk by Simon Martínez, BCA'37 UK: The Basque Children Evacuated from Bilbao to Southampton on May 23rd 1937: 'solo por tres meses [Only for Three Months]'.
As part of: 'The 80th Anniversary of the Republican Exile of 1939: Lessons from and for a Modern World Symposium'.
Review of the talk given for the Bartonsham History Group on 8 October 2019 by Maria Dolores (Lita) Power
---
Conference held on 27 & 28 March 2019 at the University of Leeds
Report by Scott Ramsey (University of Leeds)
---
Cards and original pictures by Maite Pinto
Please see these new items for sale on our shop page - under "Other Items" towards the bottom on the page.

---
Basque Children - Refugees of the Spanish Civil War
Wednesday 25 September - Friday 29 November SALFORD
Exhibition: Working Class Movement Library, 51 Crescent,
Salford, M5 4WX
Opening times Wednesdays to Fridays 1pm - 5pm and the first Saturday of most months 10am - 4pm. Tel 0161 736 3601.
Report by Carmen Kilner
---
Report by Carmen Kilner
---
---
Welcome
In 1937, during the Spanish civil war, almost 4,000 children were evacuated to the UK from Bilbao. Read more …
At first they stayed in a camp at Stoneham and later in colonies throughout the UK. Read more …
We want to remember and preserve the story of these niños de la guerra in their rightful context. Read more …
Latest eNotice
From the Archives
Newsletter 6, November 2006, p6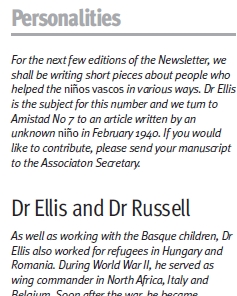 Personalities
Drs Ellis and Russell, Raimundo Perez Lezama and Fr Bedita Larrakoetxea
---
… an article you may have missed:
"Basque Children in Sheffield 1937 - Froggatt Colony"
by Simon Martinez
---
… photo from North Stoneham: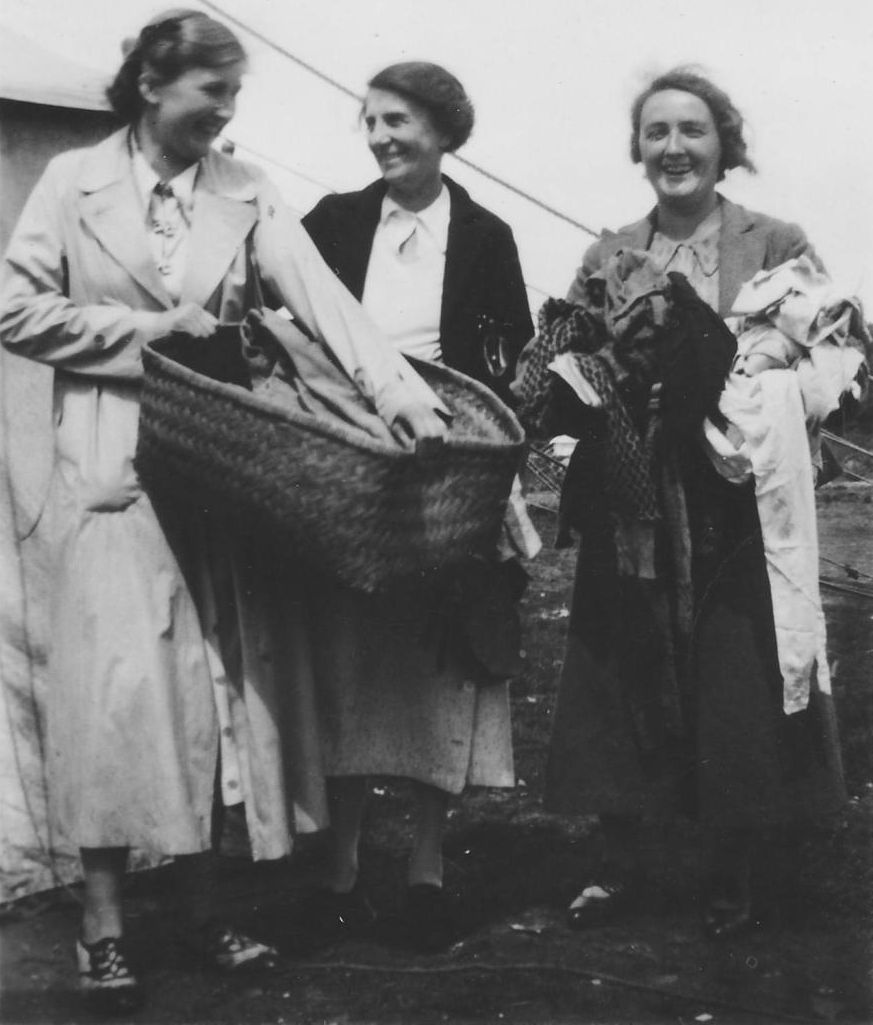 Local ladies who volunteered to help with the laundry.
---
From Other Archives
From LatinoLife magazine:
Los Niños Vascos and The English Lord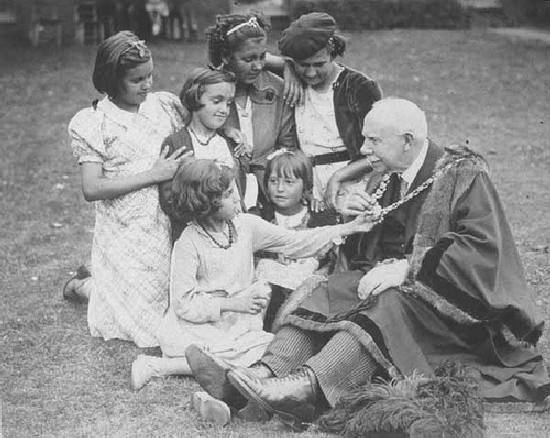 … who defied the British government's official policy of appeasement … Read it here …
[First published by LatinoLife magazine. For more great articles on Spanish and Latin American culture visit www.latinolife.co.uk]
Articles & Reviews
by Martin Murphy
[Discussion of the niños colony and also the artists Cernuda, Barea and Garfías in exile and their links to Eaton Hastings]
---
sent by Begoñia Abiega
---
---
---