What's on this site
---
Web site last updated on:
18 July 2017
80th Anniversary News, Notices & Events
This year is the 80th anniversary of the arrival of the SS Habana and its 4,000 children passengers.
We are involved with a series of public events around the UK and in the Basque Country; these are listed below. Details and new events will be added as we receive them so please check the web for full details nearer the proposed date.
Do let us know of other events relating to the Basque niños by emailing: secretary@basquechildren.org
28th July - HULL NEW
Plaque unveiling and showing of 'The Guernica Children' - 34 Pearson Park, Hull HU5 2TD, 2pm.
Unveiling of a plaque at the site of a home for refugee Basque children during the Spanish Civil War, followed by a showing of the documentary 'The Guernica Children' and a talk by Manuel Moreno, BCA'37 UK in the nearby Pearson Park bowling pavilion.
3rd July - 11th August BILBAO NEW
Archivo Historico de Euskadi, María Díaz de Haroko Kalea, 3, 48013 Bilbo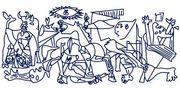 31st July - 23rd August - BRIGHTON
College of Arts and Humanities, University of Brighton, School of Humanities, 10-11 Pavilion Parade, Brighton, BN2 1RA
"Guernica Remakings"
. An exhibition exploring the ongoing power of Pablo Picasso's iconic painting Guernica (1937) through a display of contemporary reworkings.
More details here.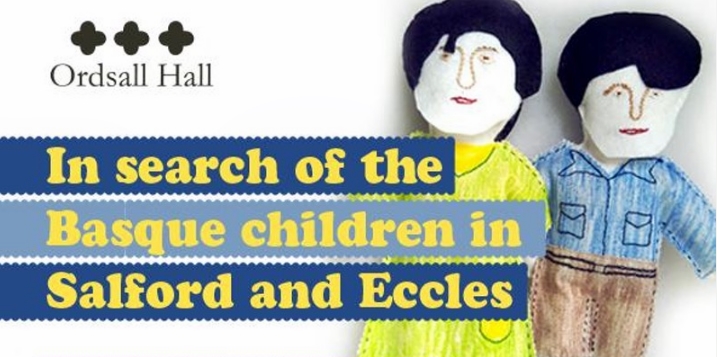 18th June - 24th September - SALFORD (Greater Manchester)
Exhibition In Search of the Basque Children in Salford and Eccles - Ordsall Hall, 322 Ordsall Lane, Ordsall, Salford M5 3AN
28th August - DUNDEE
Exhibition and showing of 'The Guernica Children' - Dundee Library
(More details nearer the time)
7th October - MONTROSE
Concert with na-mara,laying flowers at existing plaque, BCA'37 exhibition and stall.
(More details nearer the time)
9th October - EDINBURGH
Showing of "The Guernica Children", exhibition, talk, Q & A session.
(Still in planning stages - more details nearer the time)
---
Other News, Notices & Events
Annual Meeting
The annual comida of los niños vascos took place on the 28 May.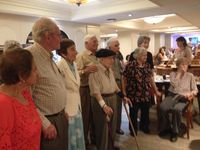 Ten of the children were joined by ninety family members for an afternoon of conversation, remembering, smiles and a few tears, good food and wine.
Thanks to Luis and Amaya for organising this wonderful event. Thanks to Manuel for organising the raffle which raised £315 for the Basque Children Association. And thank you to the staff of the Melia Hotel who made us so welcome.
Click for a full resolution photo
Muchas Gracias, Simon Martinez
---
---
Welcome
In 1937, during the Spanish civil war, almost 4,000 children were evacuated to the UK from Bilbao. Read more …
At first they stayed in a camp at Stoneham and later in colonies throughout the UK. Read more …
We want to remember and preserve the story of these niños de la guerra in their rightful context. Read more …
From the Archives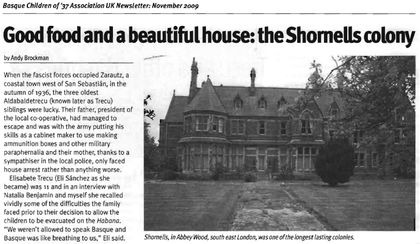 Shornells colony
Good food and a beautiful house …
---
… and an article you may have missed:
"The Basque Refugee Children in Britain 1937 - 1939; Personal Memory and Public History"
2009 (inaugural) BC'37A UK Annual Lecture, given by given by Dr Tom Buchanan
Read the full article here …
Latest Articles & Reports
NEW
by María Dolores (Lita) Power
---
NEW
report by Barbara Coombs
---
NEW
by Carmen Kilner
---
report by Simon Martinez
---
report by Simon Martinez
---
---