What's on this site
---
Web site last updated on:
21 February 2019
Association forthcoming events
Friday 22 February BOLTON
Bolton Socialist Club, 16 Wood Street, Bolton BL1 1DY, 7.00pm
Thursday 7 March LONDON
Instituto Cervantes de Londres, 15-19 Devereux Court, London WC2R 3JT (nearest tube Temple/Holborn) — 7-9 pm
The Basque Children - The end of the Spanish Civil War and the beginning of the exile for the Niños
Talk by Dr Peter Anderson (University of Leeds)
Wednesday 13 March SALFORD
WCML 51 Crescent, Salford, M5 4WX, telephone 0161 736 3601, 2 - 4pm
Guernica Remakings
Talk by Nicola Ashmore (curator of the exhibition — see details above)
Monday 18 March - Friday 5 April LEEDS
Leeds Central Library, Municipal Buildings, Calverley Street,
Leeds LS1 3AB
The Basque Children, Exhibition
Thursday 28 March LEEDS
Leeds Central Library, Municipal Buildings, Calverley Street,
Leeds LS1 3AB
Talk by Prof Paul Preston (further information to follow)
Thursday 28 March LEEDS
University of Leeds (further information to follow)
The End of the Spanish Civil War - eighty years on
An afternoon of talks to include Simon Martinez, BCA'37UK and Dr Scott Soo, University of Southampton.
---
News, Events & Reports
28th January Beach House, WORTHING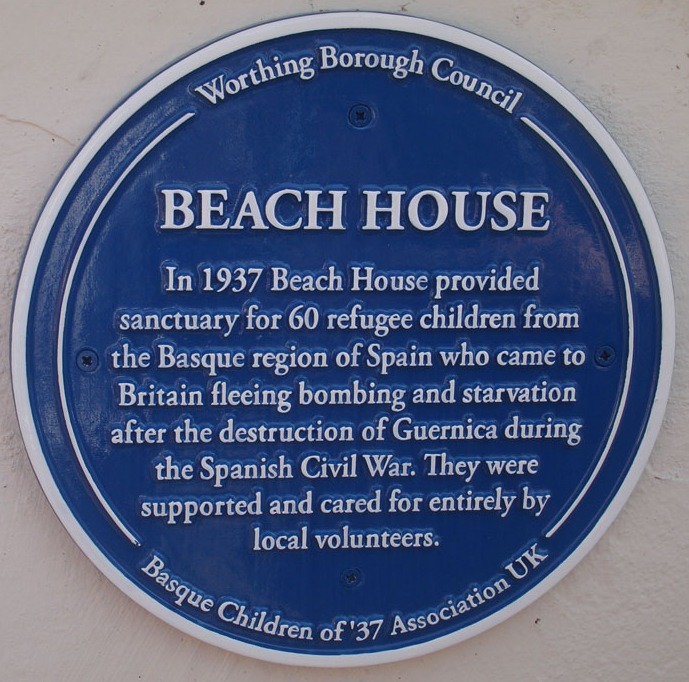 The following press reports are on the rededication and unveiling of the renovated blue plaque commemorating the Basque children's stay at Beach House; together also with those commemorating Edward Knoblock, playwright of Kismet, who lived there; and that King Edward VII stayed there on several occasions.
See: The Worthing Herald report here,
and: The Worthing Society report here.
Photos of the event can also be found in our gallery here.
A further report of the event by Meirian Jump Jump can be read here.
---
School visits
The Association is keen to raise awareness of the events of 1937 by offering talks to schools. Read Carmen Kilner's reports on recent visits.
---
El niño vasco de Mansilla de las Mulas
Paco Robles, a niño, has been in the news recently following the publication and launch of a book about his life and memories by the Asturian author Miguel Ángel Fernández.
More information at these web sites:
www.diariodeleon.es/noticias/sociedad/paco-es-tipo-comun-vio-truncada-infancia-guerra_1307113.html
and
http://ultimocero.com/noticias/movimientos-sociales/2019/01/25/paco-robles-nino-la-guerra-aun-recuerda-estruendo-las-bombas-gernika/
---
Thursday 31 January - Wednesday 20 March SALFORD
WCML 51 Crescent, Salford, M5 4WX, telephone: 0161 736 3601
Guernica Remakings, Exhibition
Though not directly about the Basque children, we think that this may be of interest to you.
Friday 29 March BARNET, London
Barnet Folk Club, The Bull Theatre, 68 High Street, Barnet, EN5 5SJ
Article about Leah Manning
Here is a link to a further article about Leah Manning by Gregorio Arrien that appeared recently in the Basque newspaper Deia: https://www.deia.eus/2018/12/15/sociedad/historias-de-los-vascos/leah-manning-la-educadora-con-un-homenaje-pendiente-
Las últimas andereños del exilio inglés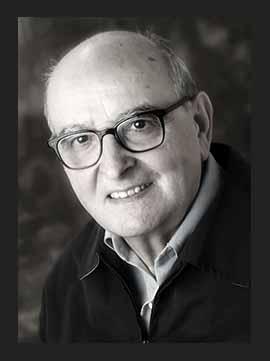 This article by Gregorio Arrien appeared recently on the Euskal Kultura web site.
This brief note by Carmen Kilner explains some of the background on Fr Gregorio Arrien …
---
A Life for Education — A Celebration of Leah Manning
Report by Carmen Kilner
Includes links to: a video that was shown, a Basque television report by EITB and the Homerton Collection of works by Coqué Martínez.
---
The Basque Children. The English Exile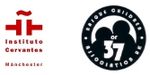 Instituto Cervantes, Manchester have produced a short video about their recent exhibition held and organised in collaboration with Simon Martinez of BCA'37 UK.
www.youtube.com/watch?v=JRQJkuz1y2I
See also report by Barbara Coombs, below.
---
Report on the event by Barbara Coombs
---
---
Welcome
In 1937, during the Spanish civil war, almost 4,000 children were evacuated to the UK from Bilbao. Read more …
At first they stayed in a camp at Stoneham and later in colonies throughout the UK. Read more …
We want to remember and preserve the story of these niños de la guerra in their rightful context. Read more …
From the Archives
From Newsletter 13, May 2010
Tres poemas
Written by three niños who remained un the UK.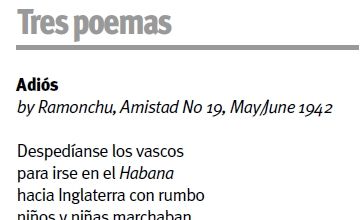 Taken from the magazine Amistad 1941 and 1942 …"
Read the full article here …
---
… an article you may have missed:
From Home Hills and Beyond
by Wendy Henninsson

A chapter entitled Basque Connections — about her father Edgar Phillips and his connection with the two Carshalton colonies The Oaks and The Culvers.
Read the full article here …
---
… and from our photo gallery: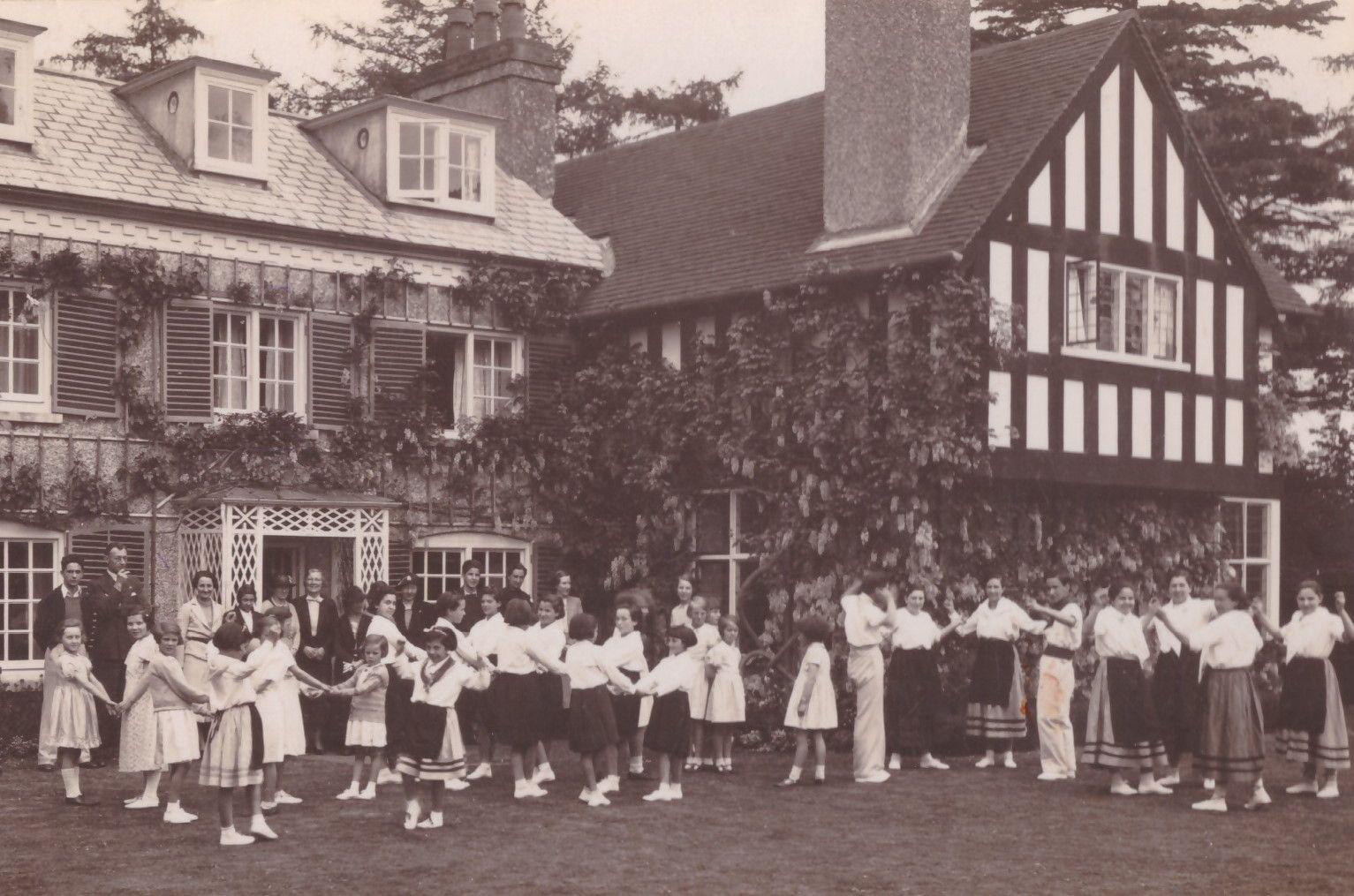 The children of Bray Court colony, Maidenhead, rehearsing traditional Basque dances. Kindly sent to us by Wendy Round, the daughter of Harold Lammas.
Latest eNotice
Articles & Reviews
by José Luis Duo Goldaracena
---
by Adrian Blazquez Lindblad
This undergraduate dissertation was submitted to us for publication on our website by Adrian Blazquez Lindblad - who then went on to be awarded a first class degree.
---
by John Simmons
---
by Karen Robson, Head of Archives, University of Southampton
---
---
---