What's on this site
---
Web site last updated on:
24 May 2019
80th Anniversary year of the end of Spanish Civil War
A year of exile and repatriation
Association forthcoming events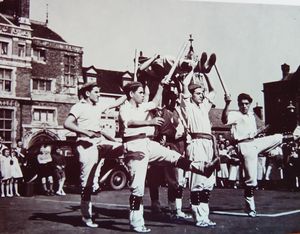 Friday 31st May - Sunday 2nd June THAXTED ESSEX
Several local venues
In the village of Thaxted in Essex, a meeting of Morris Dancers is held each year. In 1939 a group of young Basques danced at the weekend event.
To mark the 80th anniversary of this visit, a group of Basque Dancers from Berriz are attending the weekend. There will be an exhibition by BCA'37 UK on display at the Church.
[We thank the Thaxted Morris Men for permission to use the photo of Basque boys dancing at Saffron Walden in 1939.]
18 June CAMBRIDGE
St Barnabas Centre, Mill Road, Cambridge CB1 2BD, 7:30pm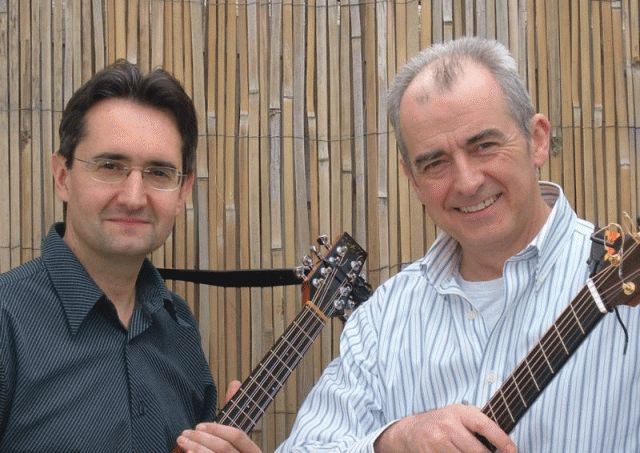 na-mara concert at the Cambridge Folk Club in association with the Mill Road History Society.
Hear the story of the Spanish Civil War and the child refugees brought to this country in 1937 from Bilbao. There is some local significance in this as there were a number of children brought to Cambridge at the time, many settled here including Antonio and José Gallego who later went on to have local and national football careers.
See also this article featuring the unveiling of a Blue Plaque in Station Road, Cambridge.
The St Barnabas Centre (formerly known as the Old School Hall) is behind St Barnabas Church and accessed from St Barnabas Road.
Tickets: £8 in advance, £10 at the door.
cambridgefolkclub.co.uk — Telephone: 01638 603986
15 June to 16 July LONDON
Islington Museum, 245 St John Street, London EC1 4NB
Exhibition and events for adults and children: The Basque Children
— the story of the Child Refugees from the Spanish Civil War
Open Monday to Saturday 10am to 5pm (Closed Wednesday & Sunday)
Telephone: 0207 527 3235
NOTE: Some events need booking
Full details here …
Thursday 18 July DUBLIN
European Commission DUBLIN. Europe House, 12-14 Mount Street Lower, Dublin D02 W710
The Museum of Childhood Ireland Project presents:
The Basque Children of '37 Exhibition
6.30pm Exhibition launch event and panel discussion (will include Adrian Bell, Stewart Reddin and Carmen Kilner)
Thursday 18 July 2019 - July 2020 IRELAND
Various venues — see programme below
The Museum of Childhood Ireland Project presents:
The Basque Children of '37 Exhibition.
This is the 2nd in the series of MoCh traveling exhibitions on
Children in War.
The tour will start: Thursday 18 July - mid August, DUBLIN Saturday 17 August - mid September, CORK (Heritage Week 2019) Tuesday 17 September - mid October, GALWAY City Library This will be followed by a month at other city libraries including: CASTLEBAR Co. Mayo, LEITRIM, DERRY/LONDONDERY and BELFAST.
Other venues, dates and details will be announced on the web and in the eNotices when available.
Wednesday 25 September - Friday 29 November SALFORD
Working Class Movement Library, 51 Crescent, Salford, M5 4WX
Exhibition: Basque Children - Refugees of the Spanish Civil War.
Opening times Wednesdays to Fridays 1pm - 5pm and the first Saturday of most months 10am - 4pm. Tel 0161 736 3601. Opening event on Wednesday 25 September - details nearer the time.
---
Inauguration of the BCA'37 UK undergraduate essay prizes.
Following on from an idea by Dr Peter Anderson, a generous donation by Prof. & Mrs Tom Buchanan, and collaboration with Profs. Luis Mári Naya and Paulí Dávila of the University of the Basque Country, we are delighted to announce that we are setting up two prizes for undergraduate essays on any topic around the evacuation of the Basque children.
The prizes are slightly different according to preferences expressed by the two adjudicating teams of academics. The prize for English speakers will be known as The Natalia Benjamin Prize in recognition of Natalia's contribution to the BCA'37 UK both as founder and for her magnificent work as Honorary Secretary for so many years. The second prize, El Premio BCA'37 UK, will be for Spanish and Basque speakers.
Any queries contact carmen@basquechildren.org
---
BCA'37 UK Undergraduate Essay Prizes
Premios de ensayo de pregrado BCA'37 UK
BCA'37 UK lizentziatuen sariak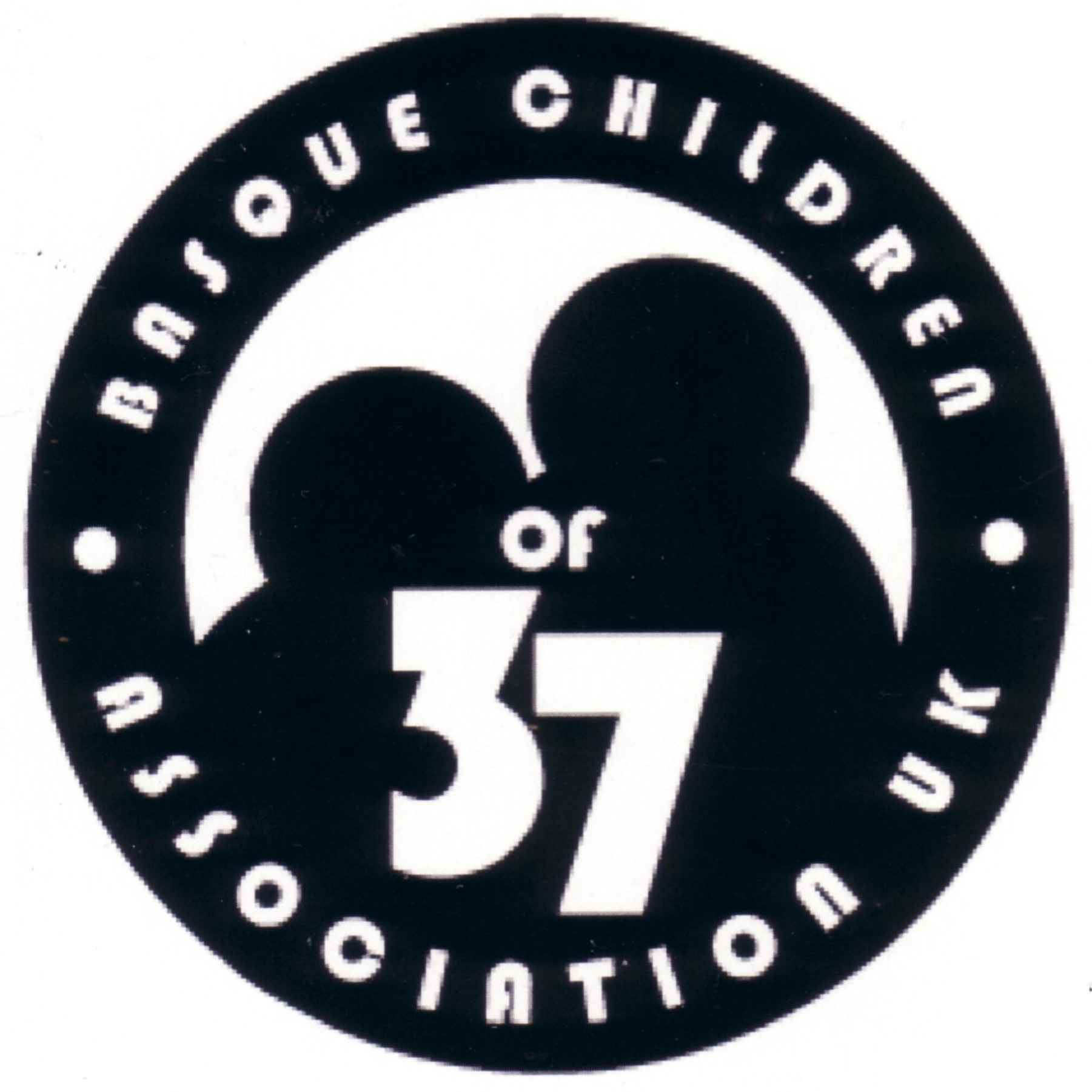 The Association is keen to encourage original research into the chapter of history with which we are involved and so this year, 2019, we are inaugurating two undergraduate essay prizes, one for English speakers another for Spanish/Basque speakers. Further details below.
La Asociación está interesada en fomentar la investigación original en el capítulo de historia con el que estamos involucrados y, por lo tanto, este año, 2019, convocamos dos premios de ensayo para trabajos de licenciatura, uno para trabajos redactados en inglés y otro en euskara o castellano. Más detalles a continuación.
Elkarteak parte hartzen ari garen historiari buruzko kapituluari buruzko ikerketa originalak bultzatu nahi ditu, eta, beraz, aurtengo 2019an bi saiakuntza sari lizentziatuentzat gonbokatzen ditugu, bat ingeles eta bestea euskaraz edo gaztelaniaz idatzitako lanentzat. Jarraian xehetasun gehiago.
The Natalia Benjamin Prize (English speakers)
El Premio BCA'37 UK (hispano/euskera hablantes)
---
News, Events & Reports
Spain and Culture - Royal Albert Hall on the 24 June 1937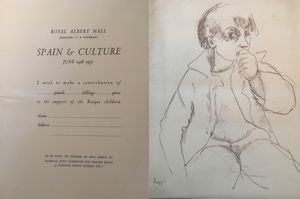 The Association has been sent the fundraising flyer for the Basque Children that was given to the audience at this event.
Terry Caven sent it to us and tells us that his grandfather attended the concert and it was kept securely in his papers.
The artist Edmund Xavier Kapp is noted as the only artist for whom Pablo Picasso sat as a subject. He was also a War Artist and was commissioned to draw scenes at Air Raid Shelters in 1940.
The Association is very grateful for Terry sending a copy of the flyer.
Click the image for a larger view and see also this report.
---
La historia de 'The niños vascos', los refugiados de la Guerra Civil en Inglaterra
A recent item of interest in the Spanish press
https://www.publico.es/sociedad/refugiados-guerra-civil-historia-the-ninos-vascos-refugiados-guerra-civil-inglaterra.html
---
Report by Barbara Coombs
---
SS Habana leaving Santurce
We have been sent this fascinating link which, among other things, shows a short footage made from one of the Bous (Republican armed fishing boats), of the SS Habana leaving Santurce on May 21st 1937. The link is at the beginning of the second paragraph where it says En este video. More information here …
---
---
Welcome
In 1937, during the Spanish civil war, almost 4,000 children were evacuated to the UK from Bilbao. Read more …
At first they stayed in a camp at Stoneham and later in colonies throughout the UK. Read more …
We want to remember and preserve the story of these niños de la guerra in their rightful context. Read more …
From the Archives
From Newsletter 16, Dec 2011
Three short articles written in 1937 by three of the Basque children: The war in Spain, The Basque children who are running and Dances of the Basques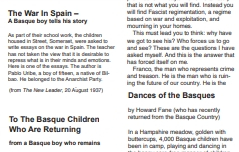 Read the articles here …
---
… and an article you may have missed:
"George Steer, the War in the Basque country and the Basque refugee children"
2011 BC'37A UK Annual Lecture, given by Nick Rankin.
Read the full article here …
---
… and a photo from back then: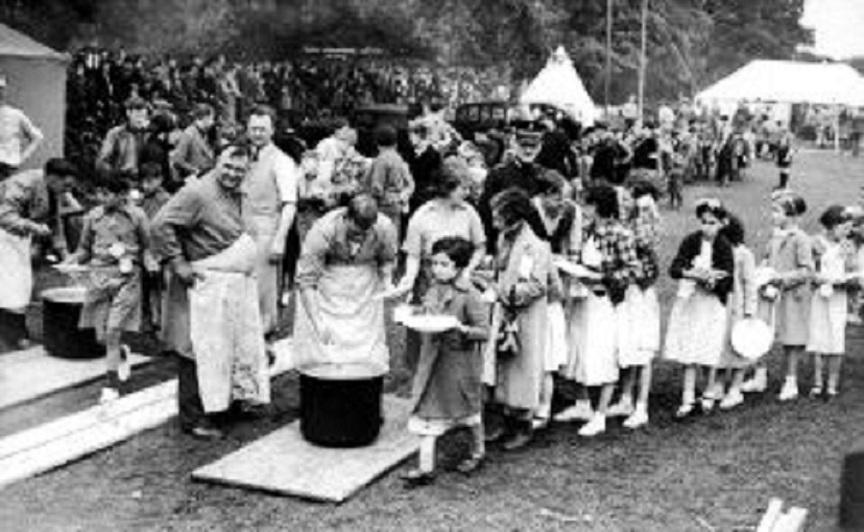 (click on the image to display a larger version)
---
From Other Archives
At North Stoneham camp
by Eleanor Hickman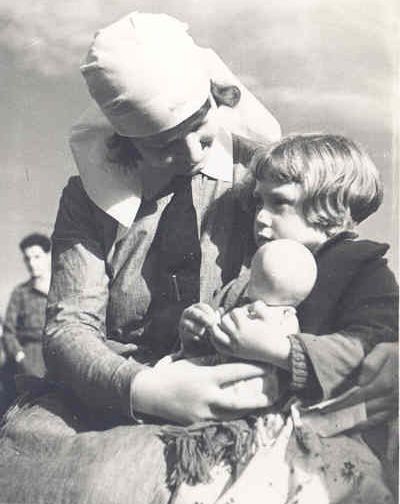 Commemorating the 82nd anniversary of the arrival of the Basque Children to Southampton, we bring you a
link to these personal photos
taken by Eleanor Hickman, a helper.
These and many other interesting items can be found at the archives of the Modern Records Centre, University of Warwick.
[BCA'37 UK gratefully acknowledge the permission of Modern Records Centre, University of Warwick for use of the above image.]
Latest eNotice
Articles & Reviews
by Peter Anderson
---
by Mike Levy
---
by Gregorio Arrien
---
por José Luis Duo Goldaracena
---
---
---