What's on this site
---
Web site last updated on:
14 October 2019
80th Anniversary year of the end of Spanish Civil War
A year of exile and repatriation
Association forthcoming events
Basque Children - Refugees of the Spanish Civil War
Wednesday 23 October 2pm WCML telephone 0161 736 3601
Talk linked to the exhibition: The Children of Guernica - the evacuation of children during the Spanish Civil War. Internationalism and Solidarity by Simon Martinez - a trustee of the BCA'37UK.
Wednesday 25 September - Friday 29 November SALFORD
Exhibition: Working Class Movement Library, 51 Crescent,
Salford, M5 4WX
Opening times Wednesdays to Fridays 1pm - 5pm and the first Saturday of most months 10am - 4pm. Tel 0161 736 3601.
El exilio de los niños vascos en el Reino Unido y el Museo de la Educación de la Universidad del País Vasco
8 de noviembre, GONESSE, cerca PARIS, Francia
Una conferencia por Luis Mª Naya y Paulí Dávila, UPV/EHU en collaboración con BCA'37 UK. Dentro de la Jornada de Estudio: El niño, la familia, la escuela y la sociedad.
The exile of Basque children in the United Kingdom and the Museum of Education of the University of the Basque Country
8th November,GONESSE, nr PARIS, France
A talk: by Luis Mª Naya and Paulí Dávila, University of the Basque Country (UPV/EHU) in collaboration with BCA'37 UK. Part of a Study Day: The child, the family, the school and the society.
18 July 2019 - July 2020 IRELAND
Thursday 18 July 2019 - July 2020 Exhibition tour of IRELAND and NORTHERN IRELAND
Museum of Childhood Ireland Project presents the 2nd exhibition in their series 'Children in War': The Basque Children of '37.
Event location details below …
Tues 17 September - 17 October, GALWAY
Galway City Centre Library, St Augustine Street, Galway H91 R6WF
Open 2 - 5pm Monday 11 - 8pm Tuesday, Wednesday and Thursday
11 - 5pm Friday and Saturday

Mid-October to mid-November, ATHLONE City Library
Mid-November to end of December, LEITRIM City Library
During2020 the exhibition will visit the city libraries of DERRY, BELFAST, WARRENPOINT, DROGHEDA, OFFALY, CARLOW, WEXFORD and we hope to close with a grand final even in DUBLIN in mid July 2020!
Final venues, dates and details will be announced on the web and in the eNotices when available.
---
News, Events & Reports
10 octubre en EITB2 "Vascos por el Mundo"
Espacio en el que un equipo de reporteros se traslada a diversos países del mundo para narrar las historias de los vascos que allí residen.
En este programa "Vascos por el Mundo" hemos tenido la rara oportunidad de compartir un poco sobre la asociación cuando Iñaki Azpiazu de BCA'37UK habló con uno de sus reporteros en Southampton.
10 October EITB (Basque TV) "Basques throughout the world."
A programme where a team of reporters visit different countries of the world to find the stories of Basque people who live there.
In this programme "Vascos por el Mundo" we have had the rare opportunity to share a little bit about the association when Iñaki Azpiazu of BCA'37UK spoke to one of their reporters at Southampton.
---
Cards and original pictures by Maite Pinto
Please see these new items for sale on our shop page - under "Other Items" towards the bottom on the page.

---
Aquello fue entonces y así es ahora
(That was then but this is now)
A new, Spanish edition of this book by Andy Grigg is now available, published by Comares in Spain.
This has a chapter on the Basque children evacuated to Britain on the SS Havana.
---
Report by Carmen Kilner
---
Report by Carmen Kilner
---
---
Welcome
In 1937, during the Spanish civil war, almost 4,000 children were evacuated to the UK from Bilbao. Read more …
At first they stayed in a camp at Stoneham and later in colonies throughout the UK. Read more …
We want to remember and preserve the story of these niños de la guerra in their rightful context. Read more …
Latest eNotice
From the Archives
Newsletter 5, April 2006, pp 5 & 6
In a country churchyard annexe by Adrian Bell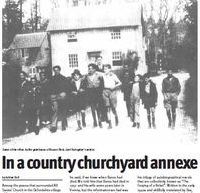 … we'd come in search of a memorial stone … to commemorate Arturo Barea and his Austrian wife, Ilsa, who had lived in exile in Britain since March 1939] …
---
… an article you may have missed:
"Spanish Boy Refugees and Adult Exiles at Buscot Park
A presentation, consisting of illustrated slides, by Roger Vlitos, Curator and Archivist of the Faringdon Collection.
[It is shown on our website by kind permission of Lord Faringdon.]
---
… a photograph from a colonia: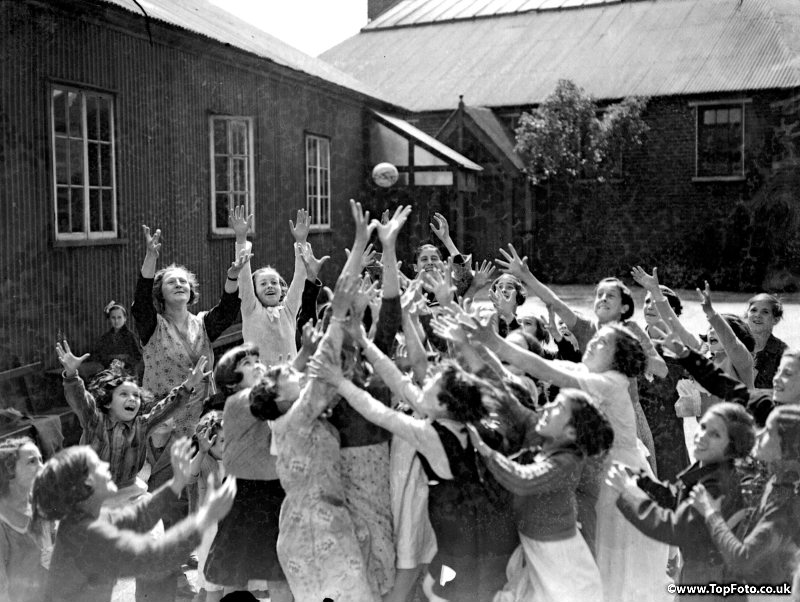 A ball game
[Shown with kind permission of TOPFOTO — www.topfoto.co.uk]
---
Articles & Reviews
sent by Begoñia Abiega
---
by Peter Anderson
---
---
---