What's on this site
---
Web site last updated
18 June 2021
---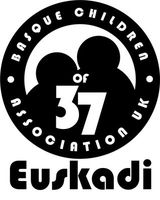 Hacer clic para
mas información
Para BCA'37UK - Euskadi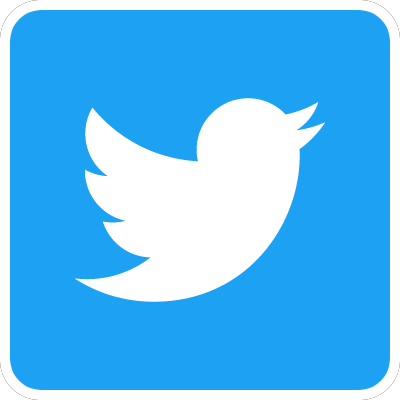 Véanos en Twitter
---

Association Notices


---
SPOTLIGHT ON …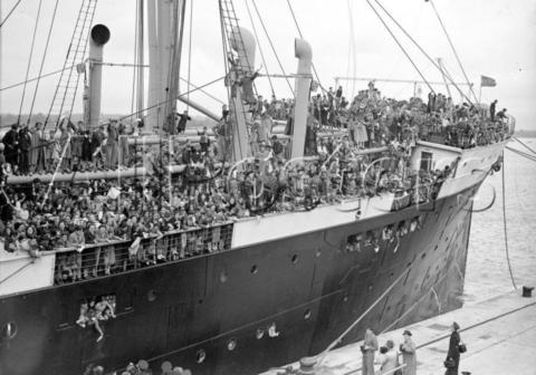 To commemorate the 84th anniversary of the Expedición a Inglaterra, our occasional series of articles continues with a collection of some items from our website and two new articles about the SS Habana.
SPOTLIGHT ON SS HABANA
DESTACADOS DEL VAPOR HABANA.
---
Prestigious Award for Natalia Benjamin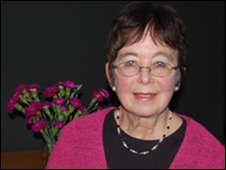 We are delighted that Natalia Benjamin will soon receive an Honorary Doctorate from Oxford Brookes University for her important work on the testimony and historical memory of refugees, which is recognised as being of international importance.

We will give more details as they become available.
---
BCA'37 UK Essay Prizes 2021
We invite submissions for the The 2021 Natalia Benjamin Prize for English speakers and for El Premio BCA'37 UK, 2021 for Spanish and Basque speakers. Closing date midnight, 30 September 2021.
More information – Mas información – Informazio gehiago
---
COVID-19
Please read the implications of the situation to our activites here …
---
---
Other News, Events & Reports
---
Basque child refugees: untold stories from the National Archives
To mark Refugee Week 2021, the National Archives have produced a short film about the Basque children. It can be viewed on YouTube via this link: https://www.youtube.com/watch?v=5zf80IP8x0c
---
ONLINE EXHIBITION — on now

Bombs.. Away!

Please visit the Peace Museum's new Bombs.. Away! online exhibition.
We were pleased to help with the section on the Basque children.

Bombs…Away! is a project that will explore the impact of aerial bombardment against civilians during World War Two and use The Peace Museum's unique collection to examine how peace campaigns formed in response …

Visit the exhibition at: www.bombsawayexhibition.com
---
*** Price reduction ***

The Spanish Civil War in the Basque town of Barakaldo
Eleven Months of Resistance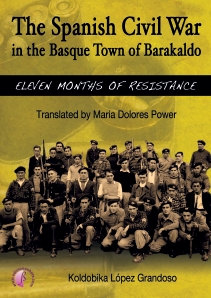 This book is specifically a history of the Spanish Civil War centred in an interesting industrial area of the Basque Country and beyond. It is the background of many of the nearly 4,000 children who came to England as refugees in May 1937 …
More details & how to purchase: visit our shop here …
---
Simon Martinez's request for "Crowd Pledging"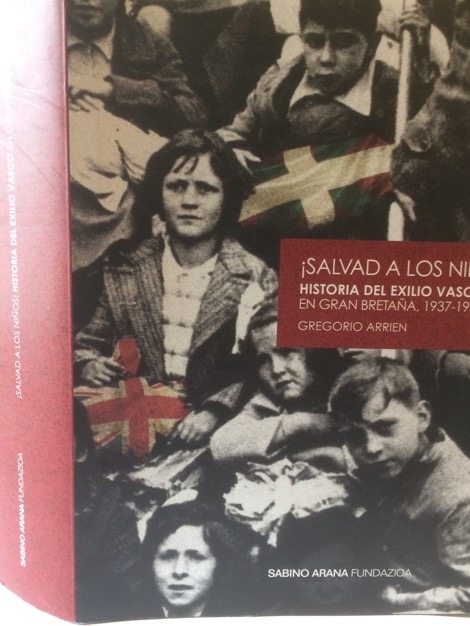 Save the Children!
The history of the Basque Exile in Greta Britain 1937 – 1940
Gregorio Arrien
Gregorio Arrien has published three books based on his research about the children. Gregorio died in 2018 and, until now, his work has only been published in Spanish. Simon Martinez, with the BCA and other partners, is making an English edition happen.
More information …
---
BCA'37 UK & BCA'37UK-Euskadi.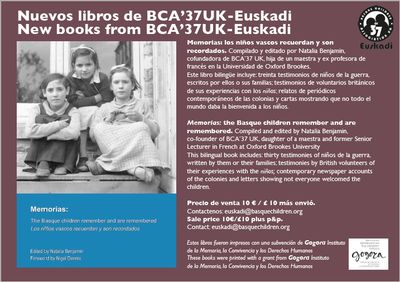 BCA'37UK-Euskadi with the help of the Basque Government through Gogora the Institute for Memory, Coexistence and Human Rights, are pleased to present two important books that tell of and remember the evacuation and stay of the children in the UK. More information and how to get copies press …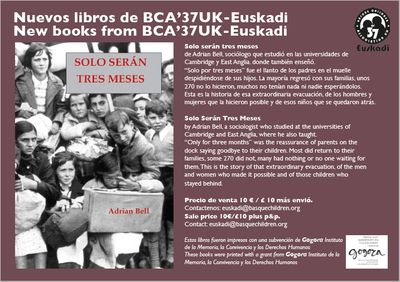 BCA'37UK-Euskadi con la ayuda del Gobierno Vasco a través de Gogora el Instituto de Memoria, Convivencia y Derechos Humanos, se complace en presentar dos libros importantes que narran y recuerdan la evacuación y estancia de los niños en el Reino Unido expedición. Para obtener más información y cómo obtener sus copias presione aquí …
---
---
Welcome
In 1937, during the Spanish civil war, almost 4,000 children were evacuated to the UK from Bilbao. Read more …
At first they stayed in a camp at Stoneham and later in colonies throughout the UK. Read more …
We want to remember and preserve the story of these niños de la guerra in their rightful context. Read more …
Newsletter / Boletín
From the Archives
Newsletter 4, Oct 2005, p5
Scouts and the Basque children
by Tom Webb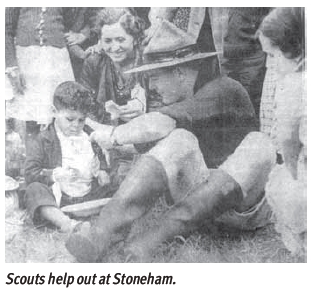 … the Scouts and Guides were among the countless volunteers who set up and assisted at [North Stoneham] …
Read the full article
here …
---
… an article you may have missed:
Preserving the past
for the future
by Karen Robson, Head of Archives, University of Southampton
---
From Another Archive:
Leicester's refuge for Basque children from the Spanish Civil War

"On Tuesday 6th July 1937 a huge crowd of Leicester people waited outside the Leicester Central Station to welcome the Basque children refugees, who are to stay at Evington Hall …"
Article by Richard Graves
(Leicestershire Historian
Vol. 52 (2016) & Vol. 53 (2017))
[Reproduced with acknowledgements and permission of the author and Leicestershire Historian.]
---
Articles & Reviews
---
---