What's on this site
---
Web site last updated on:
10 July 2019
80th Anniversary year of the end of Spanish Civil War
A year of exile and repatriation
Association forthcoming events
15 June to 16 July LONDON
Islington Museum, 245 St John Street, London EC1 4NB
Exhibition and events for adults and children: The Basque Children
— the story of the Child Refugees from the Spanish Civil War
Open Monday to Saturday 10am to 5pm (Closed Wednesday & Sunday)
Telephone: 0207 527 3235. NOTE: Some events need booking
Full details here …
16 July LONDON
Marx Memorial Library, 27a Clerkenwell Green LONDON EC1R 0DU
Storytelling adventure: finding a safe home
This event for families and children under 5s accompanies our joint exhibition at Islington Museum with the Association for the Basque Children of the UK on 15 June - 16 July (see above).
Sessions 10.00 - 10.45am and 10.45 - 11.30am.
Thursday 18 July DUBLIN
European Commission DUBLIN. Europe House, 12-14 Mount Street Lower, Dublin D02 W710


The Museum of Childhood Ireland Project presents:
The Basque Children of '37 Exhibition
Please note change of start time.
5:30 - 8:00pm Exhibition launch event. Viewing of the exhibition, refreshments, showing of The Guernica Children and panel discussion (will include Adrian Bell, Gisela Holfter, Stewart Reddin and Carmen Kilner). Entrance is free.
Thursday 18 July 2019 - July 2020 IRELAND

Various venues — see programme below
The Museum of Childhood Ireland Project (MCI Project) presents:
The Basque Children of '37 Exhibition.
This is the 2nd in the series of MCI Projects traveling exhibitions on
Children in War.
The tour will start:
Thurs 18 July - mid August, European Commission, DUBLIN Sat 17 August - mid Sept, CORK City Library (inc. Heritage Week 2019) Tues 17 September - mid October, GALWAY City Library
This will be followed by a month each at other city libraries including: Co. Mayo, Co. Leitrim, and Derry and Belfast Central Libraries in January and February 2020.
Other venues, dates and details will be announced on the web and in the eNotices when available. Other venues, dates and details will be announced on the web and in the eNotices when available.
Wednesday 25 September - Friday 29 November SALFORD
Working Class Movement Library, 51 Crescent, Salford, M5 4WX
Exhibition: Basque Children - Refugees of the Spanish Civil War.
Opening times Wednesdays to Fridays 1pm - 5pm and the first Saturday of most months 10am - 4pm. Tel 0161 736 3601. Opening event on Wednesday 25 September - details nearer the time.
---
BCA'37 UK Undergraduate Essay Prizes
Premios de ensayo de pregrado BCA'37 UK
BCA'37 UK lizentziatuen sariak
The Association is keen to encourage original research into the chapter of history with which we are involved and so this year, 2019, we are inaugurating two undergraduate essay prizes, one for English speakers another for Spanish/Basque speakers. Further details below.
La Asociación está interesada en fomentar la investigación original en el capítulo de historia con el que estamos involucrados y, por lo tanto, este año, 2019, convocamos dos premios de ensayo para trabajos de licenciatura, uno para trabajos redactados en inglés y otro en euskara o castellano. Más detalles a continuación.
Elkarteak parte hartzen ari garen historiari buruzko kapituluari buruzko ikerketa originalak bultzatu nahi ditu, eta, beraz, aurtengo 2019an bi saiakuntza sari lizentziatuentzat gonbokatzen ditugu, bat ingeles eta bestea euskaraz edo gaztelaniaz idatzitako lanentzat. Jarraian xehetasun gehiago.
The Natalia Benjamin Prize (English speakers)
El Premio BCA'37 UK (hispano/euskera hablantes)
Any queries contact carmen@basquechildren.org
---
News, Events & Reports
Report by Simon Martinez
---
Report by Simon Martinez
---
Film screening: Syria's Disappeared:
The case against Assad and Disappeared
6 July LANCASTER, 2.00pm
To be shown at the Lancaster Priory, Priory Close, Lancaster, LA1 1YZ
The Invisible War of Syria, presented by the Children's War Museum: www.childrens-war-museum.co.uk
Many of you may remember that Brian Devlin has helped us set up several exhibitions and events whilst struggling to establish the Children's War Museum. It is now a reality online - its aim is to show the adverse effect that war has on children. Most of the museum's work centres on children who today are experiencing similar traumatic times to those suffered by the Basque Children in 1937.
IBMT Annual Commemoration
6 July LONDON Jubilee Gardens, London Southbank
El exilio vasco tras la Guerra Civil
17 June - 23 September BILBAO
Spanish Crossings at the Edinburgh International Book Festival
11 August, EDINBURGH 3.30pm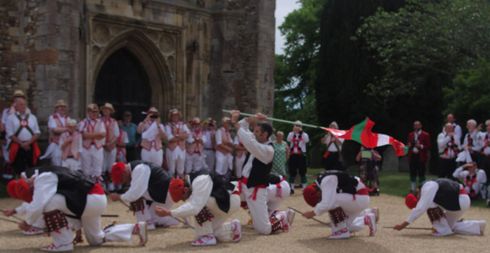 Report by Carmen Kilner
---
Documentation Centre of the Guernica Peace Museum
We have recently received a reminder about the searchable content on the museum's web site.
The site contains many relevant reports, documents and books. The main objective of the Documentation Center is to disseminate all information regarding the bombing of Gernika, the history of the Gernika-Lumo, the Spanish Civil War and the exile: compiled from different archives of Euskadi, the state and abroad.
---
---
Welcome
In 1937, during the Spanish civil war, almost 4,000 children were evacuated to the UK from Bilbao. Read more …
At first they stayed in a camp at Stoneham and later in colonies throughout the UK. Read more …
We want to remember and preserve the story of these niños de la guerra in their rightful context. Read more …
Latest eNotice
From the Archives
From Newsletter 2, Sep 2004
Laurie Lee in Spain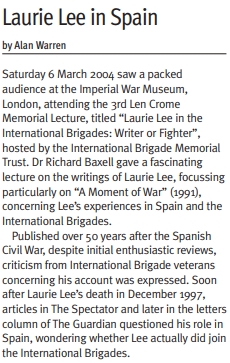 Dr Richard Baxell gave a fascinating lecture on the writings of Laurie Lee: "Laurie Lee in the International Brigades: Writer or Fighter"
Read the full article by Alan Warren here …
---
… an article you may have missed:
"What were the British motivations for and against receiving Basque refugees during the Spanish Civil War?"
by Gary Willis (submitted as part of his MRes in Historical Research, University of London)
Read the full article here …
---
… a photo from June 1937: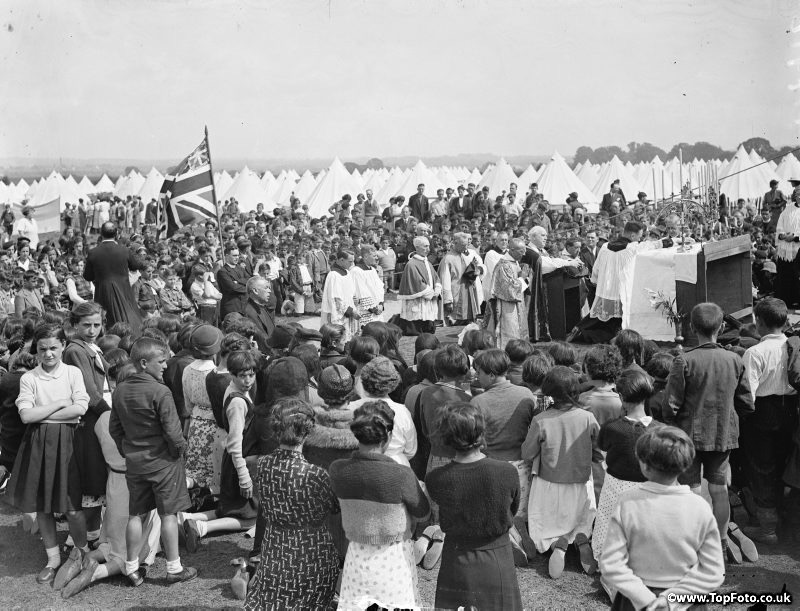 Mass being celebrated at North Stoneham. Many of the children, but by no means all, were from practicing Roman Catholic families.
[Shown with kind permission of TOPFOTO — www.topfoto.co.uk]
---
Articles & Reviews
by Peter Anderson
---
by Mike Levy
---
by Gregorio Arrien
---
---
---