Obituaries
Giordano Díaz Lombardero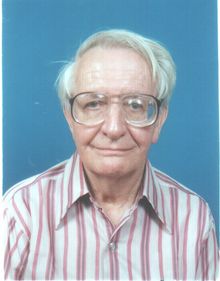 Giordano's nephew, Alvin Diaz, reports the death of his uncle on 18th May in Lewisham.
Among Giordano's papers, Alvin found a draft of a piece written by Natalia Benjamin, obviously based on interviews she had conducted. Alvin has amended it for accuracy and added more detail.
It begins, "Born in August 1923, Giordano was the younger of two brothers: he was 13 and his brother Amador was 14 when the Spanish Civil War broke out. Their mother had died when he was three, and the two boys were brought up in Bilbao by their paternal grandparents, living a property called "Arbolarte" in Portugalete. Their father was a civil engineer and worked in the Altos Hornos steelworks in Portugalete. Their maternal grandfather had also worked there, but had been killed in a horrific explosion …"

Read the full article here.