Obituaries
Cliff Kirkpatrick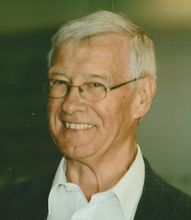 It is with regret that we announce the death of Cliff Kirkpatrick,
20th December 1941 - 25th November 2017.
Cliff worked many years for the association and will be sadly missed.
The funeral will be at 1.20pm on Wednesday, 13th December, at North East Surrey Crematorium, Cemetery Lodge, Lower Morden Ln,Morden SM4 4NU
Donations only please to Princess Alice Hospice, West End Lane, Esher KT10 8NA.
You are invited back to the family home after the service, for refreshments at 14 Westways, Stoneleigh, Surrey KT19 0PQ
---
"Cliff Kirkpatrick, my father, an avid follower and member of the Basque Children's Association, sadly passed away at home after a long illness, on Saturday 25th November. Some might find it unusual that an Englishman from a Yorkshire mother and an Irish father would become such a keen member of this association, but I don't, it was him. Cliff was a devoted husband, father and grandfather with many interests and an immense passion for life. He would give his all to whatever challenge or interest came his way.
"It was these qualities that led Cliff to relocate his young family to the Fiji Islands for 6 years in the early 80s. My interest in malacology as an 11 year old at the time was embraced as if an interest of his own and led to a year as the Fiji shell club president, where he gave many superb presentations on a subject somewhat thrust upon him. On his return to the UK he carried on working as an engineer for another 10 years until he decided that a new career in the ambulance service would be more fulfilling, a role that he enjoyed until his retirement.
"Retirement, however, was not just spent playing lawn bowls with with his wife Janet. It was also an opportunity to dedicate more time to his many interests, most of which stemmed from a lifelong passion for history. Coins, stamps and even spoons were all a source of his curiosity at some point and with my move to Spain we would soon find him scouring local flea markets for old Spanish notes. On these visits he would come across a lot of tokens from the civil war and his focus soon turned to this era in Spanish history. As always he relished the challenge to study meticulously his chosen subject and this ultimately led him to the story of the Basque children. On joining the association though, it became more than just another interest to my father as he met many new friends, who I hope will have similar fond memories, as he did of them, and I do of him."
Photo and obituary kindly supplied by his sons Tim and Simon