What's on this site
---
Web site last updated
28 November 2022
---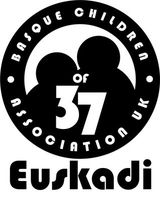 Hacer clic para
mas información
Para BCA'37UK - Euskadi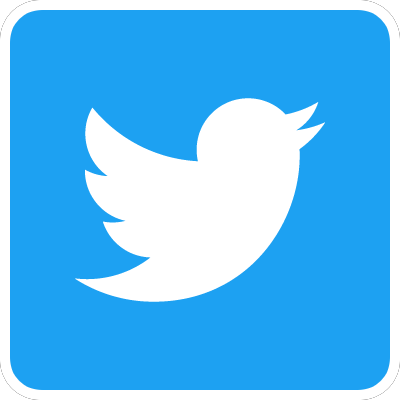 Véanos en Twitter
---
News, Events & Reports
---
Unveiling of a Sculpture to the Children of the War
Held in Santurtzi on 18 November 2022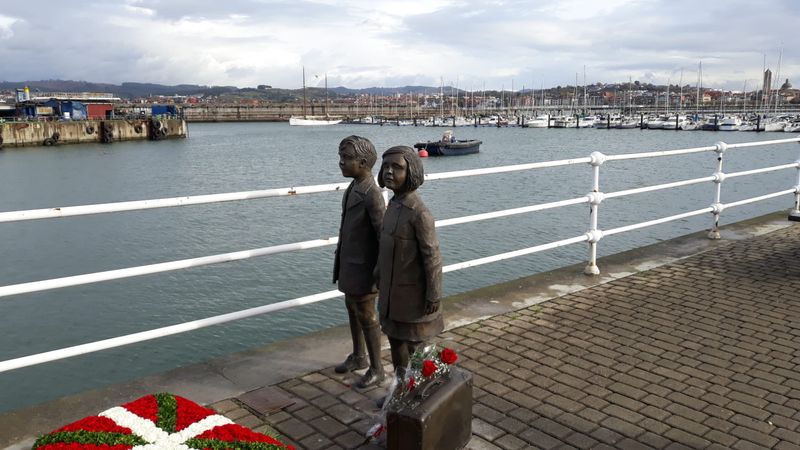 Read our collection of bilingual reports of this event here …
Lea nuestros informes bilingües de este evento aquí …
---
Elisita Webber (née Iturralde)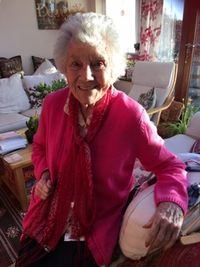 We regret to announce the death in Milton Keynes of Elisita Webber (née Iturralde) aged 92 years on 27 August 2022.
We send our deepest condolences to his family at this time.
More details here …
---
The Basque Refugee Children in Chandler's Ford
1937-2022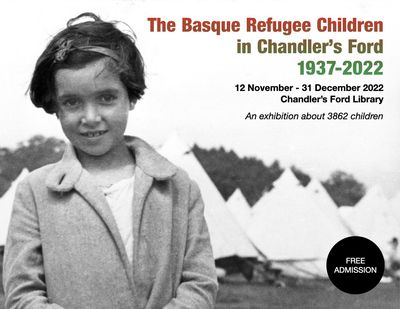 Exhibition at Chandler's Ford Library - 12 November to 31 December
The camp at North Stoneham was in Chandler's Ford in the summer of 1937.
We are very pleased to see the camp remembered there and to see the work of Stuart Allen.
---
Commemorative events for 85th Anniversary
As you know, we had to postpone the three events planned for 19 and 20 September and are in the process of reorganising them. These have now been re-organised as follows: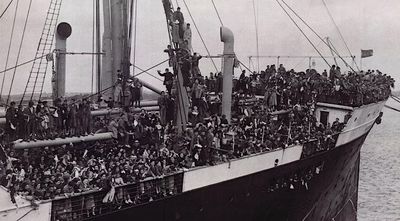 Panel Discussion University of Southampton
Wednesday 7 December at 5pm. Attached is a link to the Eventbrite site for anyone wishing to register.
---
Memorial to the Basque children in Southampton
Click on these links for articles on the unveiling on 22nd October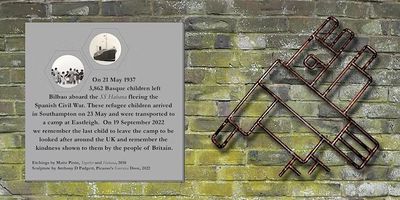 Article by Anthony D Padgett artist and sculptor
Report and Thank Yous for the memorial to the Basque Children at Town Quay Park, Southampton, by Simon Martinez here …
Reportaje y agradecimiento por el memorial a los niños vascos en Town Quay Park, Southampton, por Simón Martínez aquí …
Photographs of the event in our gallery
---
Law of Democratic Memory
A new Law of Democratic memory was approved on the 5th of October 2022 and has implications amongst other things, for those seeking Spanish Nationality. It offers a window for obtaining Spanish Nationality / Citizenship for descendants of the Niños and Maestras.
Read this article by Simon Martinez here …
*** More help and guidance from Simon in this new document …
---
The Intergenerational Transmission of Memory: The Legacies of Spanish Republican Exile
Call to first, second and third generations of niños to participate in a research project about family memories.
Principal investigator Dr. Monica Jato. Professor of Hispanic Studies at the University of Birmingham, UK. The study focuses on the communication of memory among the first, second and third generations of Spanish exiles. Read full introduction and how to participate here
---
Exhibitions Live & Online
---
---
Bombs…Away!
Please visit the Peace Museum's Bombs…Away! online exhibition.
We were pleased to help with the section on the Basque children.
Bombs…Away! explores the impact of aerial bombardment against civilians during World War Two and uses The Peace Museum's unique collection to examine how peace campaigns formed in response …
Visit the exhibition at: www.bombsawayexhibition.com
---
Haven's East: The Lost History of Basque Child Refugees in 1930s East Anglia
A National Lottery funded project investigating the history of the Basque children at colonies in Cambridgeshire and Norfolk. We were pleased to contribute to the research and development of this exhibition.
Visit the exhibition at: www.havenseast.org, read about the background to the project here …, and read this Report on Refugee week 2021 by Ed Packard
---
---
Welcome
In 1937, during the Spanish civil war, almost 4,000 children were evacuated to the UK from Bilbao. Read more …
At first they stayed in a camp at Stoneham and later in colonies throughout the UK. Read more …
We want to remember and preserve the story of these niños de la guerra in their rightful context. Read more …
Newsletter / Boletín
From the Archives
75th Anniversary Newsletter 17, November 2012, page 25
Plaque unveiled at Blackboys

Read the full article here …
---
… an article you may have missed:
The Blockade of Bilbao
by Prof. Michael Alpert
---
From Another Archive:
Southampton Home for
Basque Children, 1937


Eastleigh Library
Hampshire Library & Information Service
Read the two articles here …
and here …
---
Articles & Reviews
---
---

Visit our YouTube channel