What's on this site
---
Web site last updated
20 January 2022
---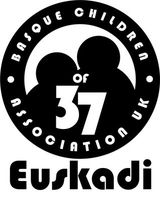 Hacer clic para
mas información
Para BCA'37UK - Euskadi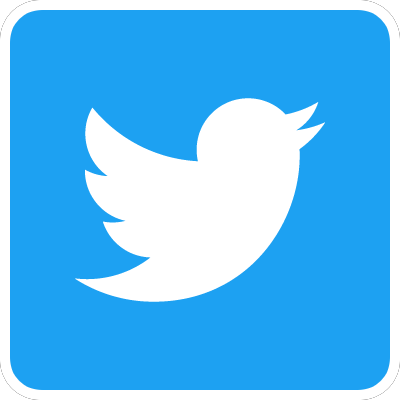 Véanos en Twitter
---

Association Notices


---
HIGHLIGHTING …
Our recent Twitter activity / La actividad reciente de Twitter


As you are probably aware, we have two Twitter accounts: Ed Packard has been running the UK account since 2017.
Como probablemente sabréis, tenemos dos Twitter: La edición de Euskadi fue creada por Gaizka Garamendi en 2020.
More information here …
Más información aquí
---
Other News, Events & Reports
---
Sculpture Trail as a new Perth Museum
There is an initiative by Perth and Kinross council to raise the profile of significant local women. It includes the Duchess of Atholl and a short recording by her. The Duchess is a candidate to be a subject for a new sculpture trail.
There is an archive clip of her talking about the donation of 2 tons of onions and other things to the North Stoneham camp. …
Part of Women's Hour to be found for a limited time on BBC Sounds.
Listen to it here … [from minute 33:45 to 41:20]
---
How a Basque refugee football team overcame tragedy to take Wales by storm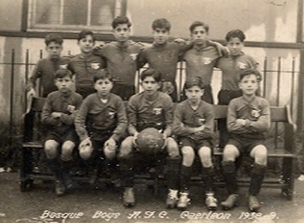 We would like to draw your attention to this very interesing article by Christopher Evans
It describes the close ties between the Basque country and Wales, and the arrival of the Basque children in Wales. Initially housed at Cambria House, the creation of a football team gave the boys some much-needed escapism.
Settling on the name "Basque Boys AFC", the team played a number of games throughout South Wales … Read the full article here …
---
Refugees in Cumbria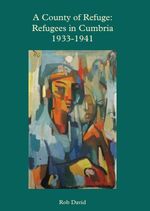 Those of you who have been interested in the two recently published articles on the Brampton colony [here … and here …] may be interested to read Dr R. David's book:
"A County of Refuge:
Refugees in Cumbria 1933-1941".
---
Update on "Crowd Pledging"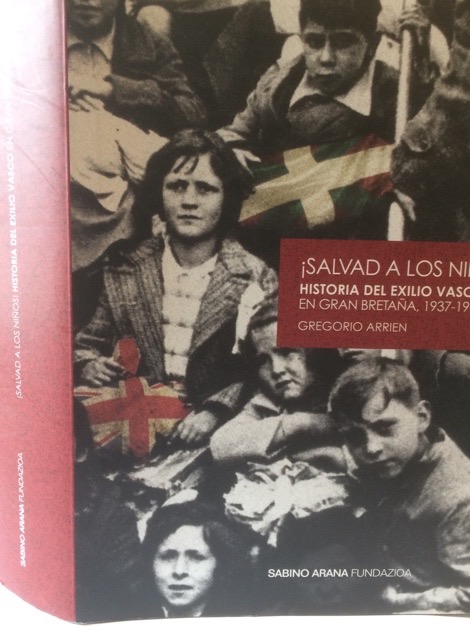 Project for the publication in English of Gregorio Arrien's ¡Salvad a Los Niños! / Save the children! The History of the Basque Exile to Great Britain 1937 - 1940.
More information …
"Thank you" to the people who have already made pledges to support this project. I am pleased to say that we are a quarter of the way there! Please consider making a pledge, the larger the better of course. In pledging a donation to fund this project you must not send money — just make a pledge by contacting me at simonmartinez1937@yahoo.com
---
ONLINE EXHIBITIONS
Bombs…Away!
Please visit the Peace Museum's new Bombs…Away! online exhibition.
We were pleased to help with the section on the Basque children.
Bombs…Away! explores the impact of aerial bombardment against civilians during World War Two and uses The Peace Museum's unique collection to examine how peace campaigns formed in response …
Visit the exhibition at: www.bombsawayexhibition.com
Haven's East: The Lost History of Basque Child Refugees in 1930s East Anglia
A National Lottery funded project investigating the history of the Basque children at colonies in Cambridgeshire and Norfolk. We were pleased to contribute to the research and development of this exhibition.
Visit the exhibition at: www.havenseast.org, read about the background to the project here …, and read this Report on Refugee week 2021 by Ed Packard
---
---
Welcome
In 1937, during the Spanish civil war, almost 4,000 children were evacuated to the UK from Bilbao. Read more …
At first they stayed in a camp at Stoneham and later in colonies throughout the UK. Read more …
We want to remember and preserve the story of these niños de la guerra in their rightful context. Read more …
Newsletter / Boletín
From the Archives
Newsletter 12, November 2009, p8
Good food and a beautiful house: the Shornells colony
by Andy Brockman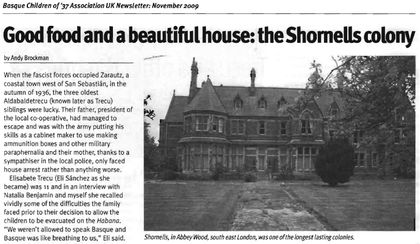 Read the full article here …
---
… an article you may have missed:
Researching the Basque Children by Natalia Benjamin
---
From Another Archive:
From The Library - Modern Records Centre at Warwick University
---
Articles & Reviews
---
---