Obituaries
Caireles Martínez Tobalina
Born Baracaldo 23.12.1923
Died London 20.2.2018
Aged 13 when he came to Britain.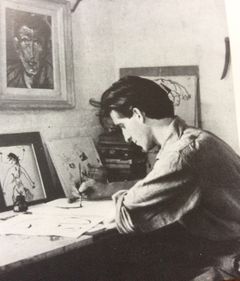 We have received the sad news of the death of Caireles (Cai). He leaves his wife Feliciana, his son Eloy and grandchildren.
He was interviewed by the Kensington and Chelsea Local History Group and this is some of what he remembers about his life.
"We arrived at Southampton. I remember very little about the crossing. The ship was full to bursting with children. There were more than 4000 of us. It was a very trying passage with everyone squashed together and every available space on the ship taken. We arrived at the port of Southampton in the early hours. It was a week after the coronation of King George Vl. We were very surprised to see the streets decked with bunting and fairy lights. We thought it had been done for us.
We were taken to a camp near Southampton … The first surprise was the food … Those little triangular slivers of bread with paste inside … We tucked into our food with relish — especially the bread which was so white, so delicious and so plentiful, after the hunger we'd suffered in Bilbao during the blockade."
Cai spent time at the camp at North Stoneham, then the camp at Diss run by Poppy Vulliamy, and then Great Yarmouth, Ipswich, Colchester, Shipton under Wychwood, Farringdon and finally The Culvers at Carshalton.
"Poppy (Vulliamy) got me a place in art school in Oxford … It was in the Carshalton Colony that I first met Feliciana, but it wasn't until two or three years later that we saw each other again and in time got married.
Coming to England changed my life's destiny. In those days in Spain, working class children either became shopkeepers or priests. At school I was being prepared to go to the seminary to train for the priesthood. At the beginning of the next school year I would have gone to Burgos to become a priest."
Instead of training for the priesthood Cai came to Britain. He was not able to return to Spain at the end of the war. Here he studied art, became a commercial artist, and then commercial designer. He was in the Union of Young Socialists and the Spanish Communist Party. He was always active politically: a member of the Peace Movement, Portobello Road Community Association, and Open Age.