Obituaries
Eddie Butler
Born 8 May 1957
Died 15 September 2022
The BCA'37 UK wishes to pay its own tribute to the great Eddie Butler, amongst so many things - a friend to our Association.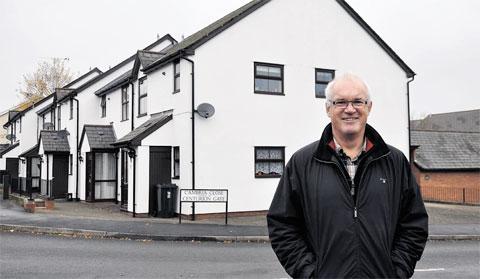 Eddie Butler outside the site of what was the Basque
Children's colony at Cambria House in Caerleon
It is with great sadness that the Association writes this tribute to the late Eddie Butler.
Eddie, a former Welsh international rugby player and renowned journalist and broadcaster, died in his sleep whilst on a charity trek on the Inca Trail in Peru.
Born in Newport, Wales, on the 8th May 1957, Eddie attended Monmouth School before going on to read French and Spanish at Fitzwilliam College, Cambridge.
It was during his gap year spent in Madrid that he fell in love with Spain. Eddie loved the country's people, language, culture and history.
Following his retirement from rugby, Eddie became a much-loved and respected journalist and broadcaster, working for The Guardian, The Observer and the BBC.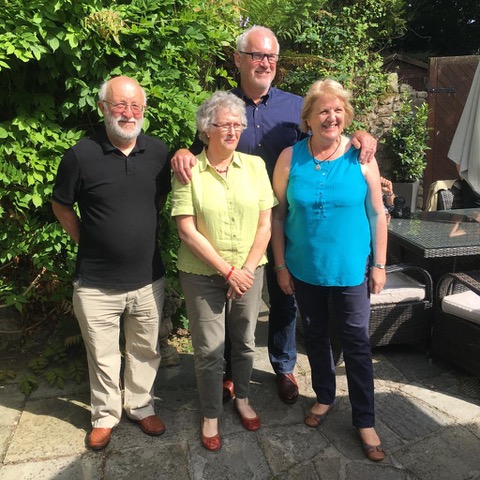 Eddie Butler with Chris Thomas of
the Caerleon Arts Festival, Carmen Kilner
and Gail Giles of the BCA '37 UK
It was during his time with the BBC that Eddie presented a documentary entitled "Wales and the Basque Refugees: The Children's Stories", about the 200 or so Basque refugee children who were given refuge in Wales in 1937.
At our Associations' 2017 80th Commemoration of the arrival of the Basque children, Eddie kindly agreed to present a screening of the documentary followed by a Q&A session at The Priory, Caerleon.
It proved so popular that it was necessary to repeat the screening as there were so many people in attendance. Eddie was more than happy to do this.
Eddie stayed for the whole day, as he was interested in and proud of Wales' history of welcoming and hosting refugees.
Just a few short months ago, Eddie once again supported the Association and came to Caerleon to speak on a panel entitled "Caerleon, Refugees and Football." This despite the fact that he had been double-booked for yet another charity event in Abergavenny. The Association knew we could count on Eddie for all things Welsh related.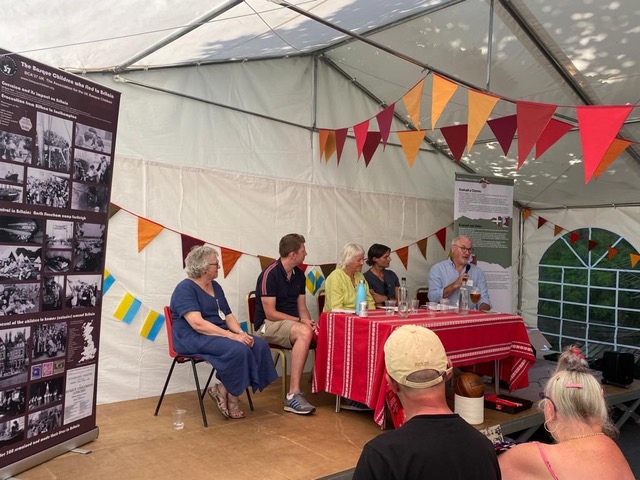 Eddie on the panel at the 85th Commemoration Event
in Caerleon - July 2022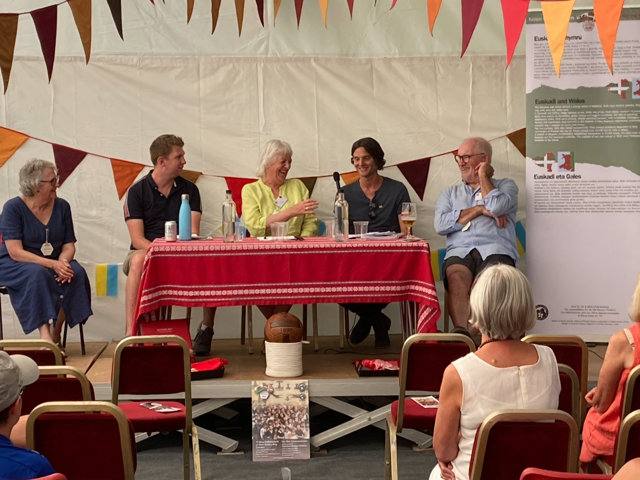 Eddie had us all captivated at the 85th Commemoration Event
in Caerleon - July 2022

As ever, Eddie arrived in good spirits and was friendly and convivial. He didn't want prepared questions - "just ask me anything and I'll do my best." His best was brilliant. He had everyone captivated with that wonderful Welsh lilt of his.
It is such tragic news that Eddie has passed on. The Association sends its condolences. Our thoughts are with Eddie's wife Susan and their six children at this difficult time.
We were privileged and proud to have had his enthusiastic support.