Obituaries
Helvecia Hidalgo (née Aldosoro)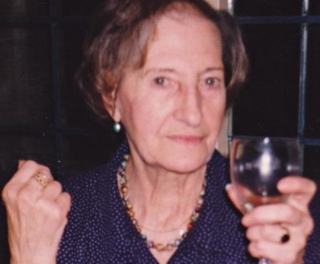 Helvecia played a pivotal role keeping the niños de la guerra in touch after the end of the war and organising their annual reunion meal until only a few years ago. She was Honoray president of Basque Children of '37 Association.
She is survived by her children Michael and Susana and their families.
Helvecia's daughter Susana Hidalgo writes:
"I am sorry to have to tell you that my mother, Helvecia passed away on the 18 April. She had suffered a mild stroke and was taken into hospital, after an initial recovery she caught an infection and began to refuse food and drink and gradually got weaker. The lymphoma which was diagnosed a year ago was a contributory factor.
My mother was 91 and had been living independently in a retirement flat, she still enjoyed cooking for herself and did this every lunchtime preferring to have her main meal at midday rather than in the evening."
Read more about Helvecia's life here.
Natalia Benjamin's talk at the funeral.
ODA A HELVECIA - a poem by Marina Morales Fernández.
A humanist Memorial Service was held at 3pm on Tuesday May 6 at the West Chapel, Kensal Rise Crematorium, Harrow Road, London W10 4RA.
Order of service and Memories shared.
Donations should be sent to the McMillan Nurses' Fund or Oxfam.