Obituaries
María del Carmen de Andrés Elorriaga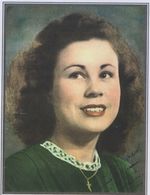 We are sad to report the news from Peter Wood that his wife Mari Carmen (Nee Andrés) passed away in mid-March after a long illness linked with diabetes.
Peter Wood, María's husband, writes:
"María Carmen de Andrés climbed aboard the S.S. Habana on that fateful day 80 years ago, alone, because she was the only one of her family that went with her father to the Socialist meeting held in Bilbao. Word had come through that she was on Franco's list …

Read the full story here.