Our Activities
News & Events 2019
---
From a correspondent in Barakaldo …
Great story of the Niños Vascos who played professional football in Britain, and who went back to Spain at the end of the 2WW.
Fantastic newsreel footage of them playing and scoring great goals.
View it here … See also this article about Raimundo Perez Lezama
---

BCA'37 UK is reaching a wider audience
Our recent note remembering George Steer (see below) was picked up by the "About the Basque Country" web site.
Remembering George Lowther Steer
George Lowther Steer wrote an explosive report of the bombing of Guernica which shocked the British public and led the British Government to action … Read more here … and this lecture transcript here …
---
BCA'37UK - Euskadi
We are delighted to announce that a new, fellow association "BCA'37UK - Euskadi" has been set up in the Basque country … Read more … Leer mas …
Please click the logo at the bottom of the left hand column of our home page for any news or announcement from BCA'37UK - Euskadi.
---
New items for sale in our shop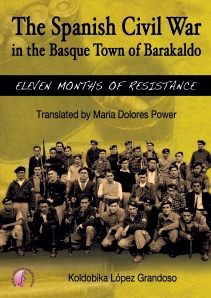 Book — The Spanish Civil War in Barakaldo here …

Cards and original pictures by Maite Pinto here …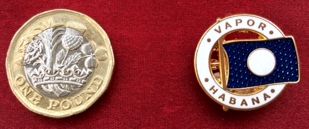 Memorabilia — Vapor Habana badge here …
---
Niños con la memoria de abuelos
Recent article in El Correo about niños who were in Wales. Read it here …
---
Links across the pond … "Picasso Presents Gernika"
Begoña Echeverria (University of California - UC) recently sent this report relating to her play "Picasso Presents Gernika". Read it here …
---
Facing Franco's Crimes: The Silence of Others
BBC 4 Storyville on Monday 2 December at 22.00
Winner of the Goya, Spain's Academy Award from the directors Almudena Carracedo and Robert Bahar. "Watch 'the film that wants to stop Spain forgetting'" - The Guardian.
Whilst not directly about the niños de la guerra this is probably of interest to many of you. More information … and the trailer … Available for a time on the BBC iPlayer [May not be available outside UK]
---
Threads of Exile
6 December, PRESTON
---
Basque Children - Refugees of the Spanish Civil War
---
Mirella Primavera Santamaría Bonilla MBE
We are sad to announce the passing of Mirella Primavera Santamaría Bonilla MBE, the daughter of niño Luis Santamaría.
Details of both the funeral on 15th November in Nottingham, and internment of the ashes on 25th November in Golders Green Crematorium can be seen here …
---
(De)fragmenting the refugee archive: researching the Basque children of 1937
---
Spanish Exiles in the UK: History and Legacies
---
El exilio de los niños vascos en el Reino Unido y el Museo de la Educación de la Universidad del País Vasco
---
---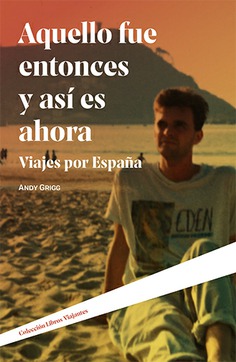 Aquello fue entonces y así es ahora
(That was then but this is now)
A new, Spanish edition of this book by Andy Grigg is now available, published by Comares in Spain.
This has a chapter on the Basque children evacuated to Britain on the SS Havana.
---
Basque Children - Refugees of the Spanish Civil War
---
Saturday October 12th NEEDHAM, Norfolk
Needham Village Hall, High Road, Needham, IP20 9LB at 2.00pm
---
Tuesday 8th October, BARTONSHAM, Hereford
At The Barrels at 7.30pm Bartonsham History Group
---
Friday 4 October 2019 LONDON
Amnesty International UK
---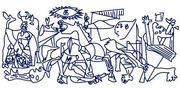 Guernica Remakings
26 July – 22 September LONDON
11:00-20:00 (closed Mondays)
---
El exilio vasco tras la Guerra Civil
17 June - 23 September BILBAO Mondays to Fridays
---
Peter Anderson's talk now on Youtube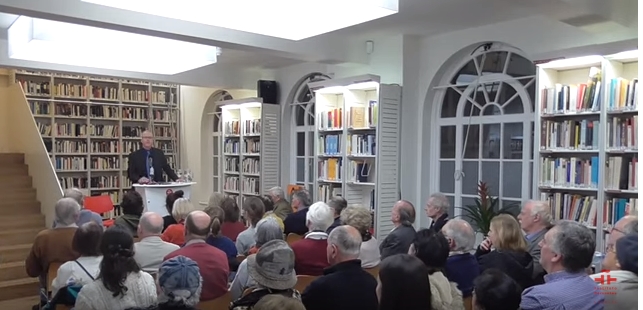 On 7 March at the Instituto Cervantes, Dr Peter Anderson of Leeds University delivered a talk: The Basque Children - The end of the Spanish Civil War and the beginning of the exile for the Niños.
This is also now available to view on YouTube
---
Curso Diasporas y Fronteras
[Diasporas and Frontiers]
21-23 de agosto/August LLANES, Asturias
---
Tues 17 September - 17 October, GALWAY
Galway City Centre Library, St Augustine Street, Galway H91 R6WF
---
31 August - 16 September LIMERICK
Limerick City Library The Granary, Michael Street, Limerick
---
Sat 17 August - 30 August CORK (this is Heritage Week 2019)
Cork City Library, 57-61 Grand Parade, Cork,T12 NT99
---
Thursday 18 July - 16 August DUBLIN
Europe House, 12-14 Lower Mount Street Lower, Dublin D02 W710
---
Thursday 18 July 2019 - July 2020 IRELAND

Specific event are detailed above as they complete …
---
Spanish Crossings at the Edinburgh International Book Festival
11 August, EDINBURGH 3.30pm
---
Documentation Centre of the Guernica Peace Museum
We have recently received a reminder about the searchable content on the museum's web site.
The site contains many relevant reports, documents and books. The main objective of the Documentation Center is to disseminate all information regarding the bombing of Gernika, the history of the Gernika-Lumo, the Spanish Civil War and the exile: compiled from different archives of Euskadi, the state and abroad.
---
Refugee Scrap Book: Memories Past & Present
Friday, 26 July 2019 - 10:00am LONDON
---
Film screening: Syria's Disappeared:
The case against Assad and Disappeared
6 July LANCASTER, 2.00pm
---
IBMT Annual Commemoration
6 July LONDON Jubilee Gardens, London Southbank
---
Santurzi Historian Zehar
We have received a series of interesting articles (in Spanish) by Jon Fernández García de Iturrospe that appear on Santurzi Historian Zehar blog. He is a librarian and archivist of the history of Santurzi. He has kindly given us permission to put these links on our website.
---
Flotsam and Jetsam
This Tumblr link has recently been brought to our attention. It is a blog entry made some years ago by Simon Martin, curator of the Pallant House Gallery. These photos of Stoneham camp by the photographer Edith Tudor-Hart are both evocative and iconic and well worth viewing.
Note: Tumblr requires acceptance of "personalised" advertising.
---
Photos of Blue Plaques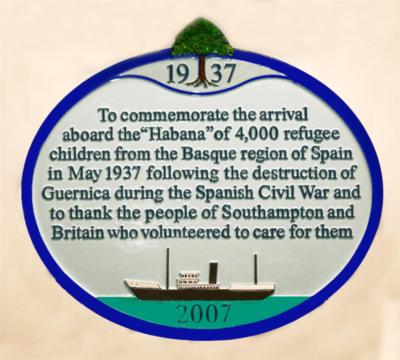 We've just uploaded into our gallery photos of a number of blue plaques attached to buildings that were former colonies.
More information about these commemorative plaques can be found in our "Activites" pages here …
---
Scrapbook Tells a Story
17-23 June Refugee Week Online exhibition, Marx Memorial Library
---
A niño at D-Day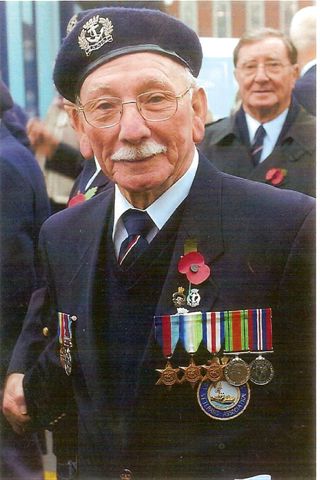 Alfredo Emilio Ruiz came over to Britain on the Habana - one of the niños de la guerra.
He joined the British navy and was the only Spaniard to take part in the Juno beach landing on 6th June 1944. The current article in El Correo, commemorates this (towards the bottom of the page).
Further reports of his life can be seen in the obituaries section and here
---
La historia de 'The niños vascos', los refugiados de la Guerra Civil en Inglaterra
A recent item of interest in the Spanish press
https://www.publico.es/sociedad/refugiados-guerra-civil-historia-the-ninos-vascos-refugiados-guerra-civil-inglaterra.html
---
SS Habana leaving Santurce
We have been sent this fascinating link which, among other things, shows a short footage made from one of the Bous (Republican armed fishing boats), of the SS Habana leaving Santurce on May 21st 1937. The link is at the beginning of the second paragraph where it says En este video. More information here …
---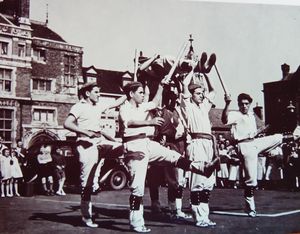 Friday 31st May - Sunday 2nd June THAXTED ESSEX
Several local venues
---
16 July LONDON
Marx Memorial Library, 27a Clerkenwell Green LONDON EC1R 0DU
---
15 June to 16 July LONDON
Islington Museum, 245 St John Street, London EC1 4NB
---
18 June CAMBRIDGE
St Barnabas Centre, Mill Road, Cambridge CB1 2BD, 7:30pm
---
Thursday 18 July DUBLIN
European Commission DUBLIN. Europe House, 12-14 Mount Street Lower, Dublin D02 W710
---
Thursday 18 July 2019 - July 2020 IRELAND

Various venues — see programme below
---
Annual Reunion Lunch - Sunday 19 May 2019 Melia Whitehouse Hotel, LONDON
The Annual Reunion Lunch to remember the arrival of the Niños Vascos in Southampton in May 1937 will be held on Sunday 19 May 2019 at the Melia Whitehouse Hotel, Albany Street, Regent´s Park, London NW1 3UP.
Any Niño Vasco, relation of a Niño Vasco, or anyone connected with the evacuation of the children from Bilbao in 1937 is very welcome to join us.
These reunions are an opportunity to catch up with old friends and to remember why the evacuation took place.
For further information call Luis Jarero on 07788 715971 or by
email at luisjarero@yahoo.com.
---
Saturday 18 May HULL
Hull History Centre, Worship Street, Hull, HU2 8BG
---
25 April - 8 May GLASGOW & EDINBURGH
Retrospective on Basque Films
The Retrospective features over a dozen films from the 1980s through today, which range from cult classics to recent releases. Together they provide a multi-dimensional portrait of Basque culture, with its own language, tradition and customs. The programme of films looks particularly at themes like Understanding the Basque Conflict, and rethinking Land and Tradition.
Screenings and events will take place in Edinburgh and Glasgow, but the retrospective also travels to London, Manchester and Leeds from 25th April to the 24th May 2019 and will see leading Basque directors, artists and animators attending events in Edinburgh and Glasgow.
---
The Retirada
An interesting article from the Guardian on the Retirada - which affected the families of many of the Basque niños de la guerra.: https://www.theguardian.com/world/2019/feb/09/franco-spain-refugees-haunted-by-the-past-retirada?CMP=share_btn_link
---
Spain and Culture - Royal Albert Hall on the 24 June 1937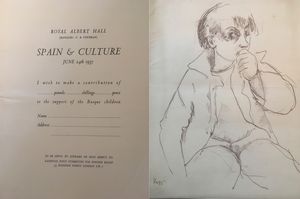 The Association has been sent the fundraising flyer for the Basque Children that was given to the audience at this event.
Terry Caven sent it to us and tells us that his grandfather attended the concert and it was kept securely in his papers.
The artist Edmund Xavier Kapp is noted as the only artist for whom Pablo Picasso sat as a subject. He was also a War Artist and was commissioned to draw scenes at Air Raid Shelters in 1940.
The Association is very grateful for Terry sending a copy of the flyer.
Click the image for a larger view and see also this report.
---
Mi padre - un Niño de la Guerra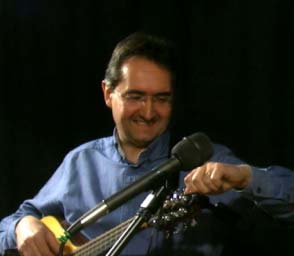 Rob García presenta una charla sobre Los Niños Vascos - Club Hispánico de Hillingdon.
Jueves 2 de mayo, 2019, 19.45, £3.00.
More details here …

or by email here: hillingdonspanishclub@gmail.com
---
Monday 1 April - Tuesday 30 April GUERNICA
The Astra Arts Centre, Guernica, Spain
---
Friday 12 April GUERNICA
The Astra Arts Centre, Guernica, Spain
---
Monday 18 March - Friday 5 April LEEDS
Leeds Central Library, Municipal Buildings, Calverley Street,
Leeds LS1 3AB
---
Friday, 29th March, ST ALBANS
The Maltings Art Theatre, Level 2,The Maltings,St Albans,AL1 3LH. 8.00pm
---
Thursday 28 March LEEDS
University of Leeds, Leeds LS2 9JT
---
BBC Radio 4: Spain's Lost Generations - Lucas Laursen
Monday 18 March and Monday 25 March, 11.00am
Episode one: Franco's disappeared
Episode two: The Missing Children
https://www.bbc.co.uk/programmes/m0003ctv/episodes/guide
---
Saturday 23rd March OXFORD
Kellogg College, 60-62 Banbury Road, Oxford, OX2 6PN
---
Wednesday 13 March SALFORD
WCML 51 Crescent, Salford, M5 4WX, telephone 0161 736 3601, 2 - 4pm
---
Thursday 7 March LONDON
Instituto Cervantes de Londres, 15-19 Devereux Court, London WC2R 3JT (nearest tube Temple/Holborn) — 7-9 pm
---
Venancio Zornoza and wife Olwen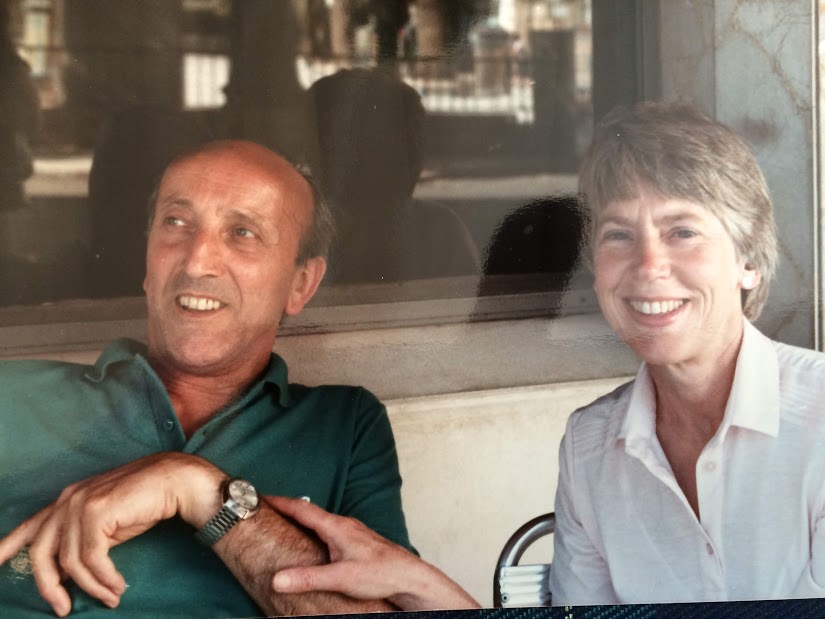 It is with sadness that we inform you of the passing of Venancio Zornoza on Friday 22nd February.
From their son Manny Zornoza:
"It is with sadness that I have to let you know that my father, Venancio Zornoza, passed away on the evening of the 22nd February 2019 in Worthing hospital.
Sadly his wife, Olwen Zornoza, later passed away on the morning of the 25th February 2019.
They leave behind 2 sons, Manuel and Luis, two granddaughters,
Caroline and Sarah, a great grandson, Freddie and a great-granddaughter, Ellie."
Our very deepest condolences and sympathy go to their sons Luis and Manuel and all the family.
The cremations will be held on Friday, 15 March at 3.00pm, at Worthing Crematorium, Horsham Rd, Findon, West Sussex BN14 0RG.
---
Article about Leah Manning
Here is a link to a further article about Leah Manning by Gregorio Arrien that appeared recently in the Basque newspaper Deia: https://www.deia.eus/2018/12/15/sociedad/historias-de-los-vascos/leah-manning-la-educadora-con-un-homenaje-pendiente-
---
Review of 2018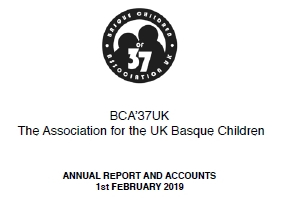 We have recently prepared our "Annual Report and Accounts" for 2018.
---
Friday 22 February BOLTON
Bolton Socialist Club, 16 Wood Street, Bolton BL1 1DY, 7.00pm
---
Tuesday 19 February BARNES, LONDON
FiSH Neighbourhood Care, Barnes Green Centre, Church Road, Barnes,
London SW13 9HE, 10.30 coffee, 11.00-11.50
---
28th January Beach House, WORTHING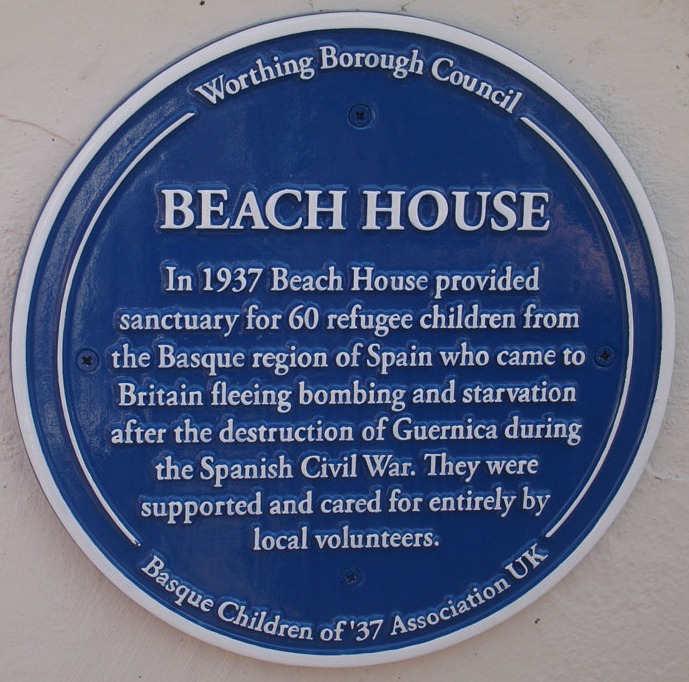 The rededication and unveiling of the renovated blue plaque commemorating the Basque children's stay at Beach House.
A report of the event by Meirian Jump can be read here.
Press reports: The Worthing Herald report here, and: The Worthing Society report here.
Photos of the event can also be found in our gallery here.

---
School visits
The Association is keen to raise awareness of the events of 1937 by offering talks to schools. Read Carmen Kilner's reports on recent visits.
---
El niño vasco de Mansilla de las Mulas
Paco Robles, a niño, has been in the news recently following the publication and launch of a book about his life and memories by the Asturian author Miguel Ángel Fernández.
More information at these web sites:
www.diariodeleon.es/noticias/sociedad/paco-es-tipo-comun-vio-truncada-infancia-guerra_1307113.html
---
Thursday 31 January - Wednesday 20 March SALFORD
WCML 51 Crescent, Salford, M5 4WX, telephone: 0161 736 3601
---
Monday 28 January WORTHING
Beach House, Brighton Road, Worthing, West Sussex, BN11 2EJ 11am-12noon
---
12 January GLASGOW
Anderston and Kelvingrove Church, 759 Argyle St,
Glasgow G3 8DS, 1:00 pm
---